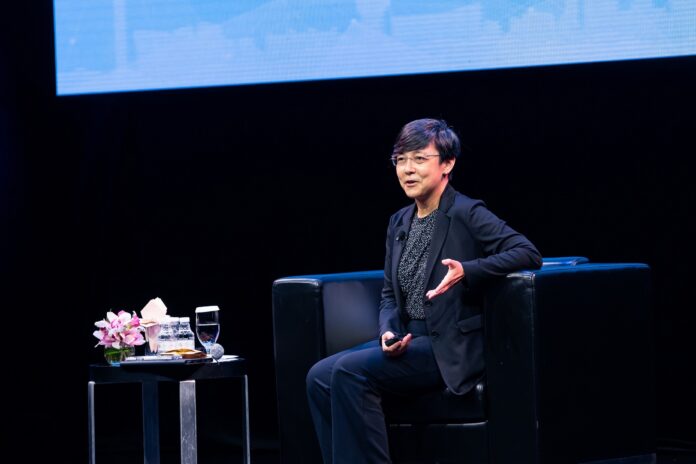 Sands China team members got an overview of Macao's tourism development at a seminar at The Parisian Theatre Tuesday, as part of the company's ongoing effort to build team members' professionalism and deepen their understanding of the development of Macao.
Maria Helena de Senna Fernandes, director of the Macao Government Tourism Office, conducted the seminar, which allowed team members to gain a comprehensive overview of the MGTO and an understanding of Macao's recent tourism profile – providing insights that can help the company target potential tourism markets and enhance team members' overall understanding of Macao's tourism development strategies and policies.
"It is important for our team members to have a good understanding of Macao's tourism development, especially during these times of the pandemic, as part of their professional education," said Dr. Wilfred Wong, president of Sands China Ltd. "The company thanks Director Fernandes for sharing her knowledge and insights with our team members, so that they can have a deeper understanding of key issues such as Macao's tourism development strategies and regional cooperation between Guangdong, Hong Kong, and Macao."
The seminar's topics included: an introduction to the MGTO, Macao's recent tourism performance, the city's anti-pandemic measures, and an overview of Macao's tourism development strategies. During the seminar, Fernandes discussed at length how to deepen the cross-border integration of "tourism+" as well as how to further solidify Macao's position as a Creative City of Gastronomy. She also suggested strengthening cooperation with e-commerce platforms targeting the mainland market in order to attract a broader customer base.
A couple hundred team members attended, including Kenry Yip, director of the travel service department, who shared: "I was very pleased to have the opportunity to participate in today's seminar conducted by Director Fernandes. The event helped us better understand the structure and functions of the Macao Government Tourism Office, as well as the important role they play in dealing with the COVID-19 pandemic, such as by helping Macao residents stranded abroad to navigate travel restrictions to return home. We learned so much from this two-hour seminar."
Sands China has been committed to improving the professionalism of its team members through various initiatives, including professional literacy training courses, Greater Bay Area tours, professional lectures, various professional exchange activities, and through film viewing sessions. Nearly 30 professionalism activities have been held to date, with a participation of over 10,000.