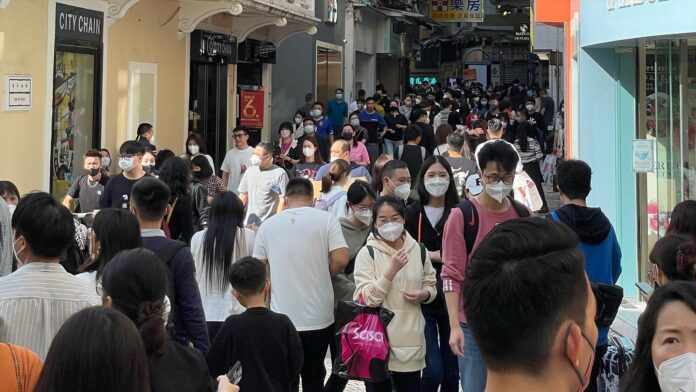 Authorities in Macau have announced they have dropped the outdoor mask mandate for outdoor activities starting today, while private companies may still decide whether they require masks within their properties.
The measure will only affect certain outdoor activities, as Macau did not have a mask requirement for walking on the street, only mandating its continual use while outdoors during key outbreak periods, as defined by Chief Executive mandate.
Authorities on Sunday noted that private establishments may still require patrons to use masks and given the scale of visitation casinos are likely to continue to require punters to use masks at gaming tables.
Masks are still required on Macau's public transport – buses and the LRT.
It is also required in all medical institutions, elderly homes and rehab facilities, as well as public departments such as the courts.
Macau authorities have now said they will "evaluate and decide on whether masks will continue to be necessary", while noting that if the epidemic situation changes, the measures could be adjusted.
Hong Kong still requiring masks
Meanwhile, Hong Kong's Financial Secretary on Friday was bombarded with questions over the government's recent decision to extend its outdoor mask mandate, initially slated to end on March 1st.
The extension, to March 8th, was justified by the flu season, with authorities claiming that COVID recoverees were more prone to respiratory tract infections.
In response to inquiries, Hong Kong's financial secretary said that mask requirements are now only likely to be dropped "at the end of the (flu) season", noting that the issue is high on the government's agenda.
"The policy is still there on health grounds," the official claimed, noting that Health Bureau officials "have been given a very clear message as to the community's aspirations to take off the masks as quickly as possible".
Hong Kong is the only Chinese territory with an outdoor mask mandate still in effect.