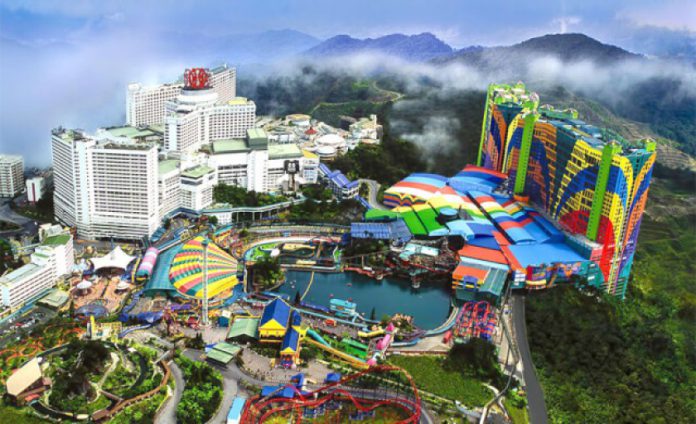 Jurisdictions benefiting from local support will continue to outperform in the first half of next year, with destination markets such as Singapore, Macau and Las Vegas, likely to begin a faster pace of recovery in the second half once vaccines become more widely available, Fitch Ratings said.
In its 2021 outlook for global gaming, Fitch points out that next year is likely to continue to be affected by targeted measures, such as temporary closures and operating restrictions.
However, it doesn't expect the impact to be as severe as it has been in 2020.
As a result of local support, Fitch says it prefers Malaysia's prospects over Singapore. It sees the former recovering to 75 percent of its 2019 levels over the course of next year, helped by new attractions at Resorts World Genting resort.
The company has been rolling out new facilities under the Genting Integrated Tourism Plan, including the completion of an outdoor theme park scheduled for mid-2021.
It says Singapore will be slower to recover as long as the borders remain closed and at present there is no short-term visibility on easing. It forecasts Singapore will only reach 45 percent of 2019 gaming levels next year.
It's a particularly downbeat forecast and one which may seem at odds with the most recent outperformance at Singapore's two integrated resorts, which beat expectations in Q3. 
The surprise result was due to pent up demand from locals, however, analysts have said they are not sure how sustainable the business will be going forward. 
As for the online segment, Fitch says it expects outsize growth will continue next year. 
"The pandemic has impacted the global gaming segments differently, with digital and lottery displaying resiliency while destination markets take longer to recover," said Fitch Senior Director Alex Bumazhny. "Recent vaccine developments are encouraging and underpin our assumption of accelerated recovery in 2H21 in these markets including Las Vegas, Singapore and Macau."
Macau is likely to continue to suffer from frictions in processing China visas, at least in the first half, Fitch says. Its projections are for only a marginal improvement from current levels in H1, with monthly revenue seen down by about 50-60 percent compared with 2019 levels. 
"The eventual easing of travel to Hong Kong and potential availability of a vaccine drives our assumption for a stronger 2H21 performance relative to 1H21," it said.