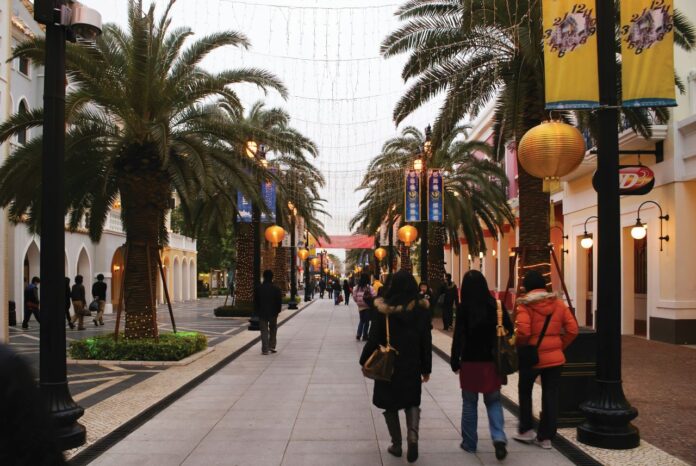 Macau's gross gambling revenue rose 11 percent week-on-week, but visitation remains subdued and the May Golden Week holidays are likely to be weaker than earlier anticipated, Bernstein notes.
Daily gross gambling revenue for the week to April 24th was MOP83 million, rebounding from the lowest levels since the borders reopened with China the prior week. 
According to the firm's channel checks, month-to-date GGR is MOP2.1 billion ($260 million, with a month-to-date daily average of MOP88 million, down 89 percent from the same month prior to the pandemic and down 69 percent from last year.
VIP volume is down in the mid-20s percent compared with March, with an elevated hold rate and mass GGR is down 30 percent from March.
Bernstein expects GGR for the month as a whole to be down about 88 percent from its pre-pandemic levels and sees the beginning of May as also being slow due to the ongoing efforts to control Covid on the Mainland.
The firm said the relaxation of testing requirements for travelers from Guangdong was a "positive" piece of news
All areas in Guangdong province are now at "low risk" of COVID outbreak after the last few "medium-risk" districts were lifted in Guangzhou City on April 22.
Meanwhile, Macau's list of Chinese cities with arrival quarantine requirements has also declined from 40+ to 30, it said.
"Macau further relaxed the COVID measures for travelers entering from Guangdong and the consecutive relaxations are positive signals showing the government's intention to start improving visitation; however, much will depend on what happens in China with COVID outbreaks, lockdown measures, and travel constraints."
Bernstein notes that the Covid situation in Hong Kong is improving, however, it doesn't expect any border opening until late summer or autumn. Hong Kong historically accounts for more than 15 percent of Macau's revenue.