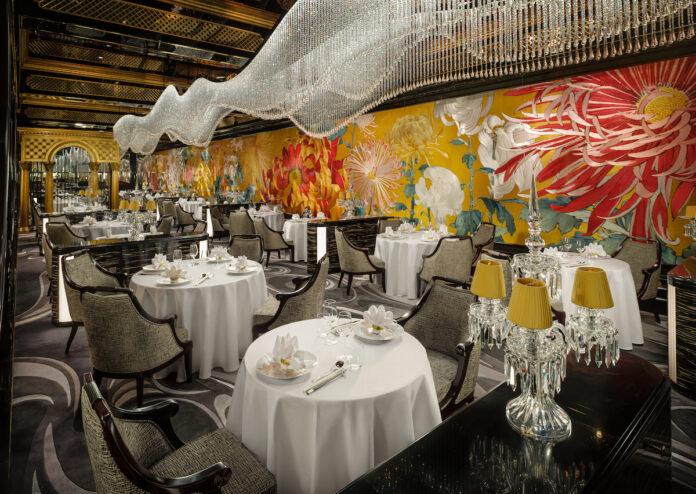 Grand Lisboa Palace Resort Macau said its Cantonese restaurant, Palace Garden, will open on 1 December.
This opulently designed restaurant offers a menu of authentic Cantonese haute cuisine made with prime ingredients, and prepared by an experienced culinary team whose master can be traced back to Jiang Taishi, an accomplished scholar who was also known as the "first man of the hundred Cantonese foods" from the Qing dynasty. Inspired by ancient imperial gardens, the restaurant's design, interior décor and art celebrate the magnificent Chinoiserie period of China's trade history.
Led by Head Chef Ken Chong, Palace Garden's menu comprises of refined farm to table Cantonese cuisine. Through the spirit of "perseverance with tradition and innovation", and his many years of experience working around the world, Chef Ken integrates western ingredients into traditional Taishi dishes, reinterpreting the flavours of palatial Cantonese cuisine.
An ornately gated entrance and magnificent garden courtyard leads on one side to private rooms, and along another passage to the Main Dining Room where a journey of culinary discovery awaits.
The Magnificent and truly luxurious Main Dining area is anchored by a 35-metre-long, custom-made mural of Suzhou silk chrysanthemum embroidery that runs through an entire wall. The room is further decorated by six free-standing, double-sided Suzhou embroidery fans comprised of bird and flower images. Storied illustrations inspired by the Dream of the Red Chamber, one of China's Four Great Classic Novels, are etched into a meandering golden mirrored wall that depicts the novel's famously lush Grand View Garden and its multitude of human characters.