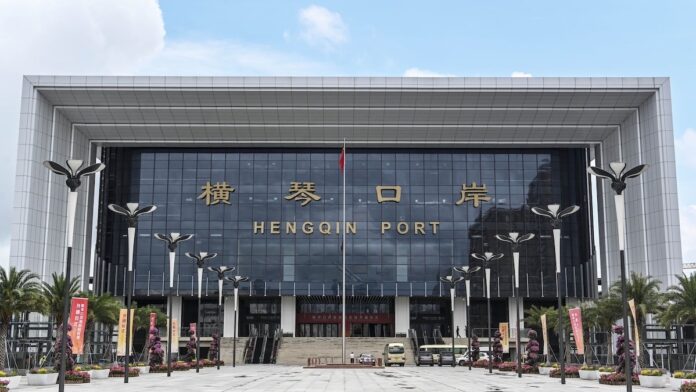 As the Macau government steps up cooperation with neighbouring Guangdong province, attention has begun to pivot back to the island of Hengqin and its potential to drive tourism and visitation to the territory. 
At the Guangdong-Macau Cooperation Joint Conference held last week, government officials identified four main areas for collaboration, with the first being listed as an intensive cooperation zone planned for the island. 
Hengqin is connected to the Cotai Strip via the Lotus Bridge and is roughly three times the size of Macau, with a population of about 53,000. There has been talk for decades of greater integration between the two to help drive development of mass market tourism and non-gaming amenities, providing the space that Macau lacks.
However, development has been slow, partially due to reluctance among Macau citizens to be engulfed by the Mainland. Covid may have helped to soften attitudes. 
"I feel that the COVID pandemic has reinforced Macau businesses' realization that Macau is heavily reliant on the Chinese market for visitors and other supplies, including human resources, although some Macau residents are still resistant to this fact," says Desmond Lam, professor in integrated resort and tourism management at the University of Macau. 
"There is already a certain level of social and business integration between Macau and its neighboring Chinese cities. Economic diversity is not just a priority for the Macau government, it is a necessity to ensure continued prosperity for Macau; and so is integration (at all levels) within GBA."
According to Matthew Ossolinski, CEO of GW Investment Consulting, some of Macau's big six operators are taking another look at opportunities on the island, partly with a view to the upcoming concession renewal process. 
Land on the island would allow them to expand non-gaming offerings, which some analysts have speculated may be stipulated as a condition in the license tenders. 
Sands China has already set up back office operations and others are in the process of doing so, while they are also actively seeking out tourism development projects to brand and invest in. Galaxy Entertainment already has a 2.7 sq. km parcel of land on the island, on which it says it plans to develop a "world class, lifestyle leisure resort."
In its 2020 annual report, the operator said it had been encouraged by greater ties between the two locations and was continuing its planning for the project. 
"Hengqin is effectively Macau's expansion zone," said Ossolinski, whose firm provides advisory and business brokering services to integrated resort operators and institutional investors on Hengqin Island. "The vision has been explicit and unwavering for 20 years: to develop Macau into a 'world centre for tourism and leisure'. Hengqin provides the space and accommodative policy needed to achieve that."
While Macau, Hengqin and the Greater Bay Area initiative are often spoken about as one project, the Macau-Hengqin tourism zone will be its own unique and distinctive market within the Greater Bay, he argues.
It's "an aspiring world class tourism cluster–by revenues the world's largest–and home to China's Nasdaq with a Macau label on it," he says. "It's like a Las Vegas merging with an Orlando–except with a casino monopoly on 1.4 billion enthusiastic gamblers."
Macau's tourism industry was brought to its knees by the pandemic and its economy was one of the worst-performing in the world as a result. Eighteen months into the crisis, visitation is nowhere near back to normal and gross gambling revenue for June is forecast to be down some 70 percent from its 2019 levels for the month.
It's been a different story on Hengqin, which is not subject to border restrictions and has benefited from China's domestic travel boom. 
According to GW Investment research, visitation to the Chimelong Ocean Kingdom theme park alone during Chinese New Year was three times greater than that for all of Macau.
"The inability of Chinese tourists to travel abroad during the pandemic has arguably been a 'shot in the arm' to Chimelong and Hengqin tourism over the past 12 months," Ossolinski said. "Chimelong's visitation is back to pre-pandemic levels–even with the same capacity and limited hotel room inventory."
"Chimelong's capacity expansion–the imminent opening of its next phase of theme parks and hotels–will be interesting to see play out. Macau concessionaires would be well advised to watch its progress closely," he said.
The park attracted 11.7 million visitors in 2019 and was the most visited theme park in Asia outside of Japan. 
Construction schedules of Hengqin's infrastructure and development projects were for the most part unchanged by the pandemic. Pace of construction remains brisk, with some projects underway round-the-clock with three eight-hour shifts every 24 hours.
However, the potential rewards do not come without the risks. 
"Hengqin is Macau's Wild West," Ossolinski says, citing infrastructure issues such as power shortages. 
Still, the general consensus appears to be that greater integration between Macau, Hengqin and the Greater Bay Area will be positive – a view that has been sharpened by the Covid crisis. 
"A stronger and more vibrant business environment in Hengqin, whether in leisure, entertainment, retail, creative, medical, and/or financial segments, will enhance Macau's national, regional and international visibility, and bring forth greater visitor numbers to the city and to the region," Lam said. "I feel that the integrated resorts in Macau will continue to play a pivotal role in Macau and, more importantly, are expected to help support Macau's development within GBA (obviously in non-gaming areas)."