Visitor arrivals in the Macau SAR have increased by 16.7 percent month-on-month to more than 3.22 million in August 2023, marking the highest monthly visitor arrivals so far this year.
The figure also represents an 8-fold increase compared to August 2022.

According to data recently published by the Macau government, the number of overnight visitors in August also increased by 9.5 percent from the previous month to approximately 1.56 million people, with same-day visitors increasing by 25 percent to 1.65 million.
However, the average length of stay for visitors dropped by 1.6 days year-on-year to 1.2 days; the duration for overnight visitors (2.2 days) decreased by 3.2 days, while that for same-day visitors (0.3 day) went up by 0.1 day.
In the first eight months of 2023, the number of visitor arrivals expanded by 363.1 percent year-on-year to 17.6 million; overnight visitors (9.1 million) and same-day visitors (8.6 million) jumped by 519.1 percent and 265.5 percent, respectively.
The average length of stay for visitors remained at 1.3 days; the average stay for overnight visitors (2.3 days) decreased by 1.0 day, whereas that for same-day visitors (0.3 day) rose by 0.2 day.
Only 4 percent of overseas visitors
According to the detailed analysis, Macau welcomed nearly 130,000 foreign visitors in August (excluding mainland China, Hong Kong, and Taiwan). This figure represents only 4 percent of the total visitor arrivals tally.
The Philippines, India, Indonesia, and Japan are the source markets with the most tourists visiting Macau.
Regarding the general source of visitors, the number of visitors from mainland China jumped by 700.5 percent year-on-year to 2,322,580, with those traveling under the Individual Visit Scheme (1,341,623) experiencing a surge of 979.7 percent.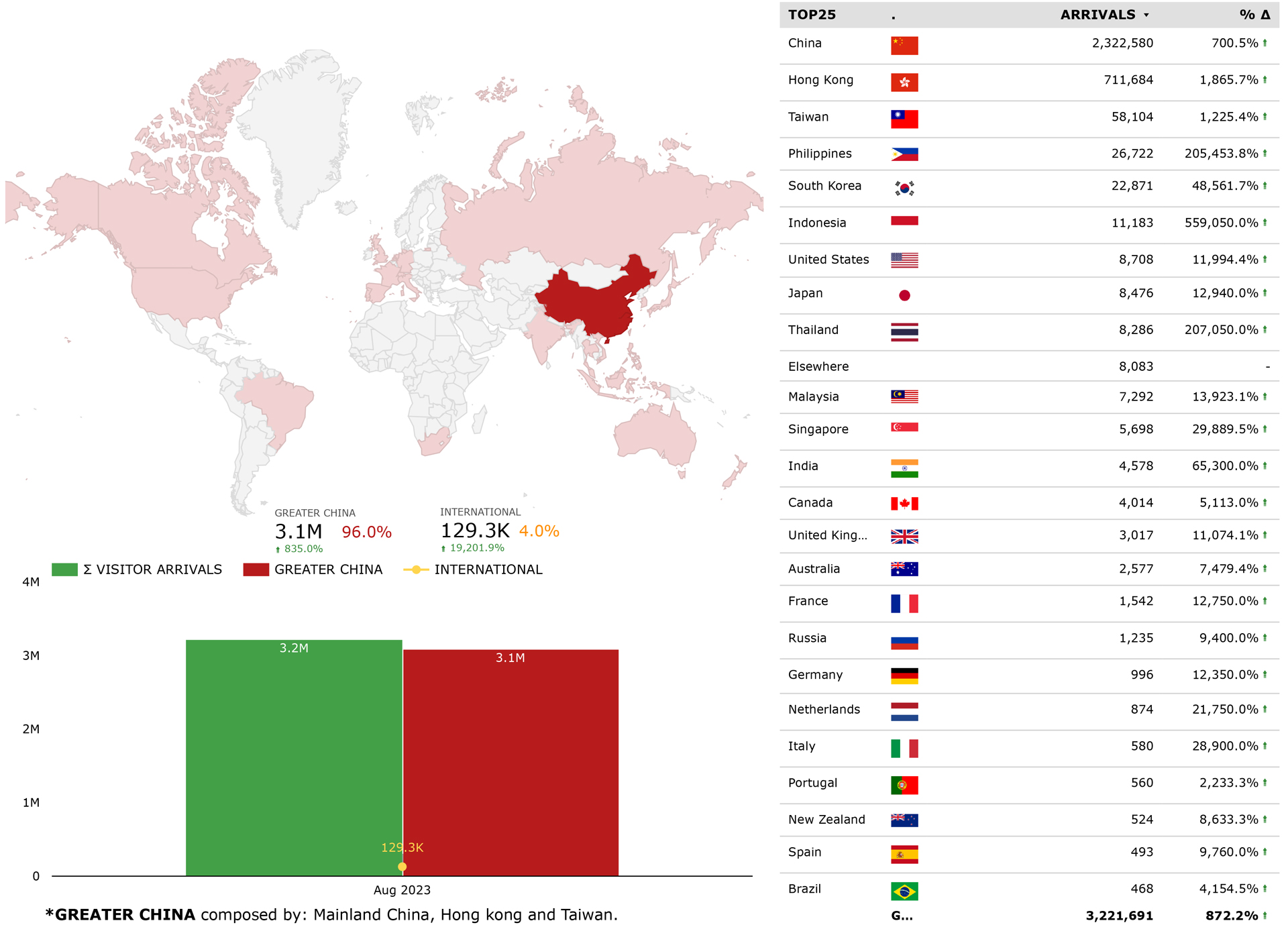 Visitors from the nine Pearl River Delta cities in the Greater Bay Area soared by 501.9 percent year-on-year to 1,110,651, of whom 21.8 percent came from Guangzhou (242,343) and 21.4 percent from Zhuhai (238,145). Additionally, visitors from Hong Kong reached 711,684 in August.