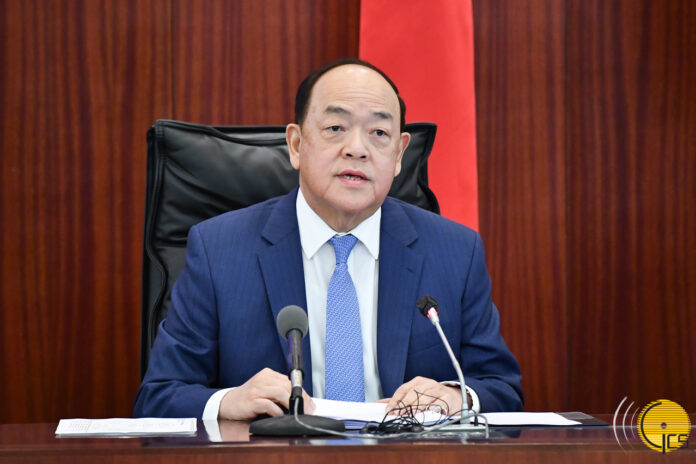 Macau Chief Executive Ho Iat Seng reaffirmed in his policy address this week that "promoting an adequate economic diversification" remained a key objective and a key way forward will be developing a financial industry.
The need to diversify the Macau economy away from its over-dependence upon the gaming industry is a perennial topic, more often producing fine words than concrete achievements. Slowly, however, as various other schemes rise and fall away, it appears that the concept of Macau as a financial center, theoretically, offers the best chance for success.
This possibility is clearly on the chief executive's mind, as he discussed it at some length in comments that he made both on Monday in his policy address and on Tuesday to some legislators of the Legislative Assembly.
On Monday, Ho stated, "We will proceed with the study and elaboration of a complete legal regime related to the financial system; promote the construction of financial, tangible and intangible, infrastructures; accelerate the construction of the bond market; prioritize the development of wealth management activities, and promote the construction of the cross-border settlement center in yuan, thus diversifying the development of the financial sector."
" China will support Macau to become a financial services platform."
On Tuesday, he added, "We still need to think a lot on how to achieve it, including developing physical spaces for negotiating bonds. We have to continue working so that our bonds market can have sustainable development… We are working so that our conditions match international standards."
This concept has long had Beijing's backing with, for example, Premier Li Keqiang saying that "China will support Macau to become a financial services platform" in October 2016 at the 5th Forum Macau Ministerial Conference.
For some time the basis for these schemes has been the notion that Macau could become a financial platform operating between China and Portuguese-speaking countries, including as an RMB clearing center and a launching pad for Chinese relations to such countries.
A common criticism of these notions, however, is that the actual volume of trade and financial transactions between China and the Portuguese-speaking world may not be of sufficient heft to justify extraordinary efforts in this direction. There will definitely need to be something more to push Macau forward to become successful as a financial center, in spite of all of the money flowing through its gaming industry.
However, even if finance is indeed regarded as the most promising growth sector outside of the gaming and leisure industries to accomplish a substantial degree of economic diversification, it shares the same weakness as all such schemes—it would require a major shift in Macanese attitudes and practice.
As Ben Lee, managing partner of IGamiX Management & Consulting, told Asia Gaming Brief, "To get real diversification, we need to basically open up Macau, open up its economy, and, more particularly, open up its labor force to external talent in order for us to be able to germinate, incubate, and grow the non-gaming component that would be so important to a real diversification of the country."
He added that the actual tendency within both the Macanese government and among a substantial part of the population is to demand policies of job protection for locals and to insulate themselves from the labor competition of outsiders.
Any sort of diversification—the creation of an energetic financial sector among them—must necessarily require new skills and at least some workers flowing in from abroad who are willing and able to impart these needed skills. This could easily clash with local political demands and thus result in high-flying plans crashing back to earth.
To put it another way, there may be a critical gap between what the Macau government says that it wants—economic diversification—and what Macanese society is willing to sacrifice in order to gain the competitive edge needed to bring any such vision to fruition.
---
Nov. GGR disappoints
Macau's monthly gross gambling revenue disappointed to the downside again in November, prompting another round of estimate cuts and further pushing out the prospects for a full recovery. The lights are on in its impressive casinos and according to indicators of luxury spending and travel on the Mainland, the desire and ability to travel are still intact. What isn't is the ease of visa processing and there is no current visibility on when that might change. The November results were down 70.5 percent at MOP6.74 billion ($844 million). That's lower than the MOP7.27 billion of the month before, although that's not a big surprise given the Golden Week holidays in October.
---
Non-resident workers decline
The number of non-resident workers employed by Macau's hotel, F&B, gaming, and entertainment sectors dropped by 13.5 percent between January and October of this year to about 61,000, according to data published by the Labour Affairs Bureau (DSAL). Non-residents in the local hotel and restaurant trade were down 14.7 percent from January, while labour in recreational, cultural, gaming and other services, including construction workers employed in the industry, was down 9 percent.