The number of suspicious transactions recorded in Macau casinos in the first nine months of 2023 has jumped by 170 percent year-on-year.
The Financial Intelligence Bureau (GIF) revealed that the six gaming concessionaires in the SAR had submitted a total of 2,335 reports of suspicious money laundering or terrorist financing transactions by the end of September.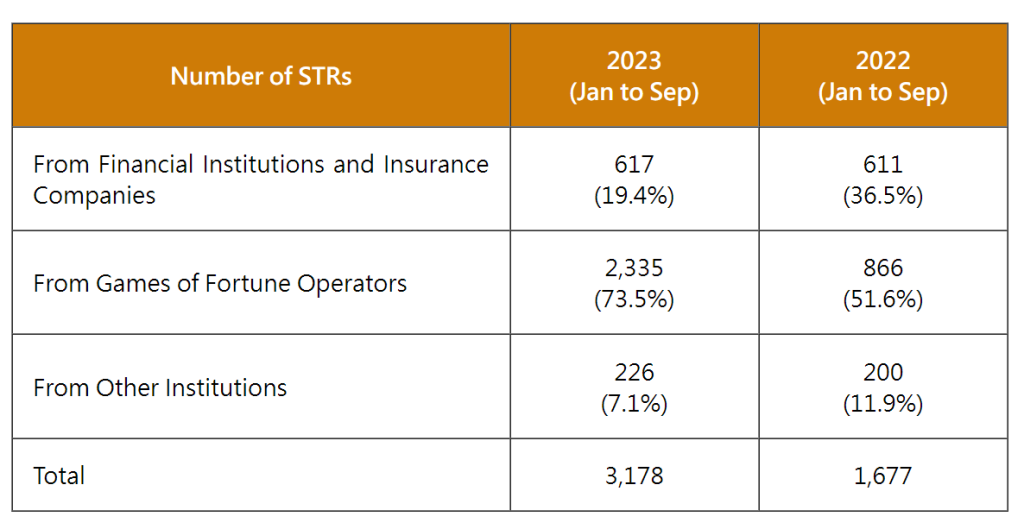 In a statement released on Monday, the GIF stated that in the same period of 2022, it had received 866 reports.
The office points to "the increase in the number of suspicious transaction reports submitted by the gambling sector" as the main reason for an 89.5 percent increase in the total number of suspicious transactions.
In the first nine months of this year, the GIF received 3,178 reports, of which 73.5 percent came from casino concessionaires, while 19.4 percent came from banks and insurance companies and 7.1 percent from other institutions and entities.
The sectors mentioned, including pawnshops, jewellers, real estate agents and auction houses, are obliged to report any transaction of MOP500,000 ($62,045) or more to the authorities.
Under Macau regulations operations that might provide indicia of the commission of the crimes of money laundering or financing of terrorism, due to their nature, complexity, amounts involved, volume or non-habitual occurrence, relative to the activity of the client or patron, must be reported to the GIF within 2 working days after detection of
such operations, regardless of the amounts involved.
GIF has previously indicated that Macau was the only member of the Asia-Pacific Group Against Money Laundering that complied with "all 40 international standards" on the prevention of money laundering, terrorist financing, and the proliferation of weapons of mass destruction.
With the end of restrictions due to the pandemic, Macau's gambling revenue between January and September more than quadrupled in annual terms, reaching MOP128.9 billion ($15.9 billion).