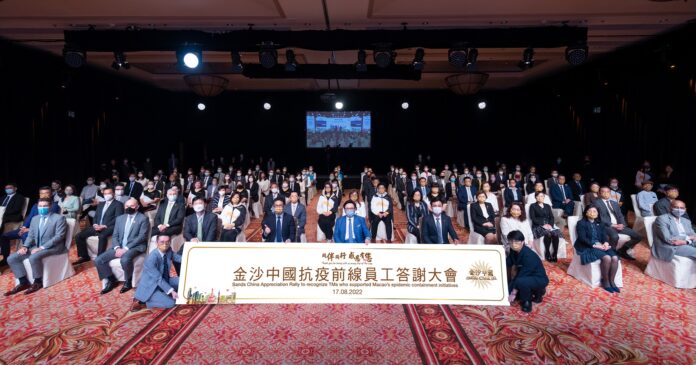 Sands China expressed its appreciation to its team members at a rally Wednesday at The Londoner Macao, recognising their acts of dedication in supporting the company's pandemic relief work.
Sands China's team members have spent over 7.5 million hours on community service in support of these efforts since 2020.
Among their efforts, Sands China volunteers have donned protective gear to take on more than 27,000 shifts to assist the operation of various nucleic acid test (NAT) stations in Macao, contributing over 135,000 service hours as of August 2022.
Sands China has been offering The Venetian Macao's Cotai Expo as a NAT station in response to the Macao government's community wide mandatory testing drives.
In addition to their support at the Cotai Expo NAT station, team members have also been volunteering at other NAT stations such as the Sino-Portuguese Technical Professional School and Sheng Kung Hui Taipa Youth and Family Integrated Service Centre.
During the NAT drives, the volunteers have been assisting with maintaining order, registration, materials distribution and enquiry handling, and they have been on hand to help the elderly, disabled and people who need assistance to finish their tests smoothly.
Another avenue of Sands China's assistance has been the use of Sheraton Grand Macao, which has been utilised as a medical observation hotel nine times since 2020.
The Parisian Macao joined the effort in June as well in order to further support the community during the recent local outbreak of COVID-19 cases.
Team members on site at the hotels have worked closed-loop shifts nearing 7.4 million service hours.
During the peak of the recent outbreak, a total of over 6,000 rooms at the two hotels were in use.
Wilfred Wong, president of Sands China Ltd. said: "As they have done so many times before, our team members continue to offer selfless service in response to the needs of our Macao community.", 
"Our company firmly believes it to be our duty to unhesitatingly contribute to COVID-19 prevention in Macao, as part of our corporate social responsibility and in our role as a company rooted in Macao for nearly two decades now. Our thanks go to all of team members for their continued dedication and to the Macao government for always providing guidance and support in safeguarding the entire Macao community during these challenging times."
During the event, certificates were awarded to team representatives as a token of appreciation for their support to the community during the pandemic.
Other activities included a sharing session to review and discuss the various successes of team members' support to the community during the pandemic.
For team members who were unable to attend in person, the event was simulcast online and on video screens at back-of-house team member areas of Sands China's properties.