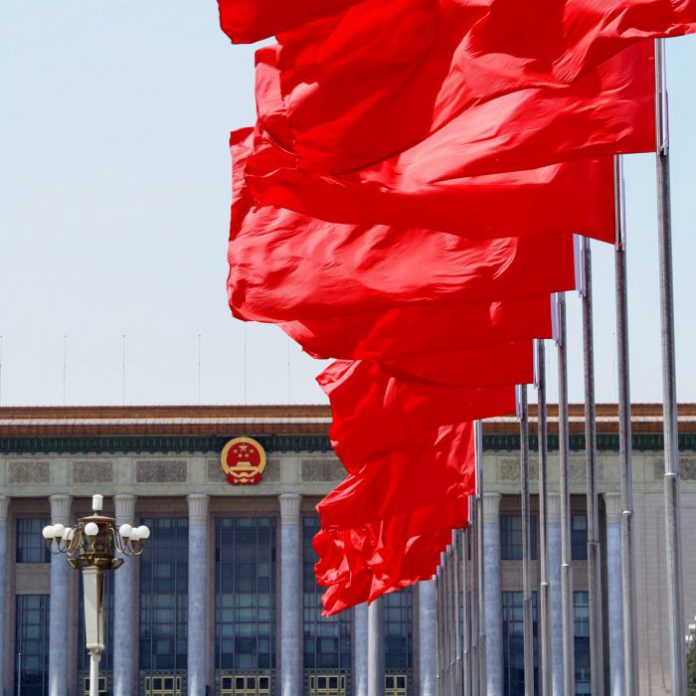 A sign Beijing is once again ramping up its anti-corruption rhetoric, combined with an increased focus on capital outflows, are likely to be further factors hindering recovery in Macau, analysts said.
China allowed visitation to resume to Macau from Sept. 23rd, but so far demand has not bounced back as quickly as most market watchers had predicted. In the first four days of the key Golden Week holiday, there was a drop of 87.4 percent in visitors, compared with the prior year.  That doesn't mean the Chinese aren't travelling.
According to figures cited by Bloomberg, there were 13,800 flight bookings for Oct. 7th, the busiest travel day of the holiday. That's 10 percent more than last year. In part, investors may have been put off international vacations, even to Macau, due to onerous Covid-19 restrictions, such as a mandatory test before travel.
However, analysts also suspect a more worrying set of circumstances may be affecting visitation to the world's largest gambling hub. They note there has been a resurgence of anti-corruption rhetoric over the summer months. While Beijing has also become increasingly vocal about money flowing out of China for gambling. 
" We see a risk that the CCP may be embarking on a second wave Anti-Corruption campaign,"
Analysts at Bernstein note there has also been a shift in focus when it comes to anti-corruption drives, with an increased number of investigations targeting state-owned-enterprise executives and sub-ministerial level individuals.  "We see a risk that the CCP may be embarking on a second wave Anti-Corruption campaign," the note said. 
"Macau could suffer damage if activity increases and leads to a suppression of gaming. This may be more so the case if the current campaign against foreign casinos and online gambling and increasing financial flow scrutiny begins incorporating Anti-Corruption activity into the same sphere," it said. Analyst Michael Ting, publishing on the Smartkarma platform, also wrote that Golden Week hasn't produced the strong rebound that had been expected.
"Headwinds such as increased government scrutiny on capital outflow has likely hurt gaming sentiment demand from higher spending VIP and premium mass players," he said.
"We expect these trends to continue and hence believe that Macau gaming stocks could underperform in the near term." During the last anti-corruption drive, Macau's gross gambling revenue fell for three straight years, from 2014, plunging 35 percent in 2015.
Although Macau was not an official target, revenue suffered as high rollers preferred to keep a low profile. This time China is also targeting foreign outflows, which it says are a threat to national security.  The Ministry of Public Security's International Cooperation Department Director-General Liao Jinrong told a conference in Beijing that about RMB1 trillion (US$145 billion) in gambling funds flow out of China each year, "There are so many casinos overseas, and details of the assets of many domestic entrepreneurs, individuals, and related parties would have been investigated thoroughly…
This is very unsafe for us." Liao added that Beijing needed to "severely crack down in accordance with the law." Beijing is threatening to draw up a black list of those countries that target Chinese nationals for gambling purposes and while Macau is again not seen as a target, there has been an impact on liquidity amongst junket operators. 
Junket liquidity is reportedly at an all time low and there have been reports on social media of operators freezing clients' funds, adding to the uncertainty. Gross gambling revenue in September fell 90 percent to MOP2.2 billion. Although disappointing, it was the best performance since March and was up from MOP1.33 billion in August.
The September numbers prompted yet another round of downward revision from analysts for their forecasts for this year, with Deutsche Bank now expecting 2020 GGR to be down 77 percent to $8.49 billion from its prior estimate of $9.46 billion. It sees a rebound to $29.35 billion next year, trimmed slightly from $29.57 billion.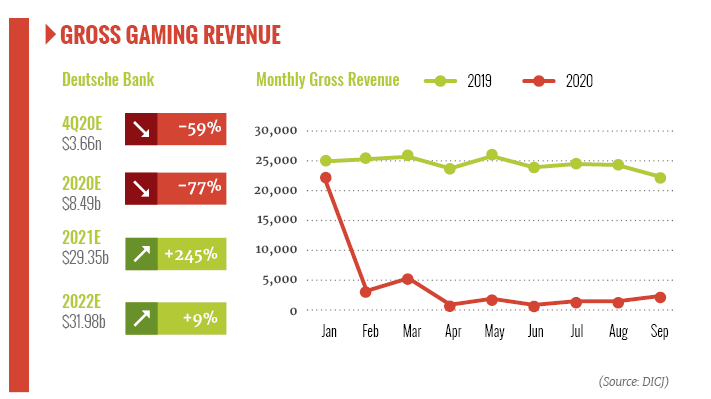 SJM HOLDINGS
---
SJM Holdings (880:HK) has 22 casinos in Macau and is still targeting an opening by the end of this year for its Lisboa Palace resort once all the inspections have been completed.  The company had been suffering a loss of market share in recent years to newer properties on Cotai, though has done well during the pandemic due to a local customer base on Peninsula Macau. Morningstar analysts recently noted that SJM is likely to be at the lowest point when it comes to market share this year and that it will begin to pick up once the Grand Lisboa Palace opens on Cotai. However, given the uncertainty around the post-pandemic recovery, the firm doesn't expect a full opening until the second quarter of next year. 
GALAXY ENTERTAINMENT GROUP
---
Galaxy Entertainment Group (27.HK) has three main properties and runs three City Club casinos inside hotels. The company is currently working on Phase 3 of Galaxy Macau, which is to feature 1,500 hotel rooms, some casino space, a large-scale arena with 16,000 seats, and 400,000 square feet (37,161 sq metres) of MICE space. The launch is scheduled for the first half of next year.  Galaxy is also expected to be one of the outperformers in the market because of its higher VIP and retail exposure. Jefferies notes that its EBITDA breakeven is lower than its peers in the low 30 percent of gross gambling revenue. Like its peers, the company has been working on cutting its costs and has reduced its cash burn to HK$2.5 million a day from $2.8 million at the beginning of the pandemic.
SANDS CHINA
---
Sands China (1928:HK) has five properties in Macau. The company has 12,000 hotel rooms and suites, making up for 48 percent of hotel rooms run by casino operators in Macau.  As the operator with the largest mass market business, it's likely to see an unfavourable market share trend in the near term, according to Roth Capital. Although the VIP-led recovery that had been predicted is now seeing road bumps due to issues such as capital flows, a return to mass volumes and visitation still seems a long way off. The company had a share of 29 percent at end 2019, but that was below 10 percent in Q2, the analysts said. It's not likely to reach run rate until late next year, leaving its massive gaming halls largely unfilled.
MELCO RESORTS & ENTERTAINMENT
---
Melco Resorts & Entertainment (6883.HK) has three casinos and the Mocha Clubs. The company operates the City of Dreams and Studio City in Macau and the City of Dreams Manila. It is also developing a resort in Cyprus and maintains a strong focus on Japan.  Melco is seen as one of the stocks in Macau that is likely to outperform in the near term. The company has a strong exposure to the premium mass sector and according to Roth Capital, doesn't suffer from some of the negative risk factors faced by the U.S. operators in Macau. These include a competitive disadvantage from China's decision to ban the use of WeChat by U.S. companies, as well as a potential risk to license renewal should tensions with the U.S. escalate
WYNN MACAU
---
Wynn Macau (1128:HK) operates two resorts, with its $4 billion Wynn Palace opening in 2016. The company's original property is on the Macau Peninsula. The Wynn Palace has 1,700 hotel rooms and 90 percent of the resort is non-gaming.  Parent company Wynn Resorts has been working with the University Medical Centre Georgetown University and other leading laboratories to create a rapid Covid test. The company is building an on-site lab with UMC at Wynn Las Vegas to deploy thousands of accurate rapid tests daily at a fraction of the current cost. "Extensive research clearly indicates that what is keeping people away from Las Vegas is not so much the physical environment, which we work diligently to keep sterilized, but rather a fear of other people. We must alleviate that fear," CEO Matt Maddox said in an op-ed.
MGM CHINA
---
MGM China (2282:HK) is operating two casinos, with its MGM Cotai IR opening in February last year. The HK$27 billion IR features 1,400 hotel rooms and suites, meeting space, high end spa, retail offerings and food and beverage outlets and its ramp up has helped the company gain market share in the latter half of 2019. MGM's parent company recently raised $750 million through a senior notes offering. The company upped the size of the issue from $500 million initially. MGM said it will use the funds to refinance existing debt and for general corporate purposes.
Operators participate in Beijing Macau Week
---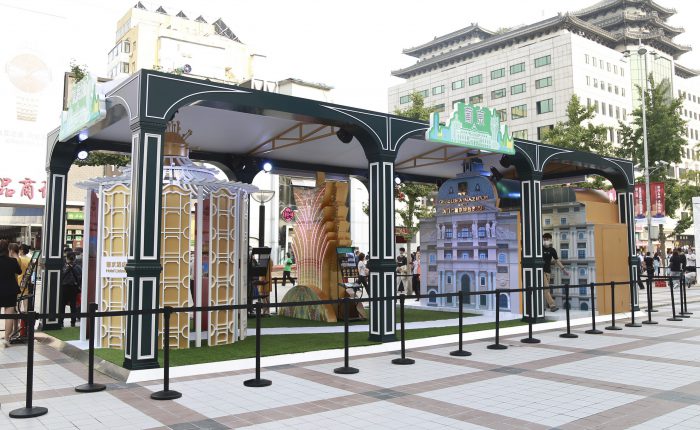 Macau's six operators travelled to Beijing in September to take part in a major marketing push to introduce non-gaming attractions, in conjunction with the Macau government. Beijing Macau Week was held on the capital's busy Wangfujing Street. As well as leveraging the resumption of Mainland travel to Macau it also celebrated the 15th anniversary of Macau's entry into the UNESCO World Heritage list.  "As a company with its roots in Macau, we are obliged and delighted to tell Macau's success story," SJM Chair Daisy Ho said. "We look forward to rejuvenating Macau tourism and boosting the economy, joining forces with the Government and the local community."  Opened in 1970, Hotel Lisboa was Macau's first integrated resort, blazing new trails in a pioneering spirit with its cylindrical hotel tower design. SJM held the monopoly until the market was opened to competition in 2002.
Macau aiming for gaming bill next year
---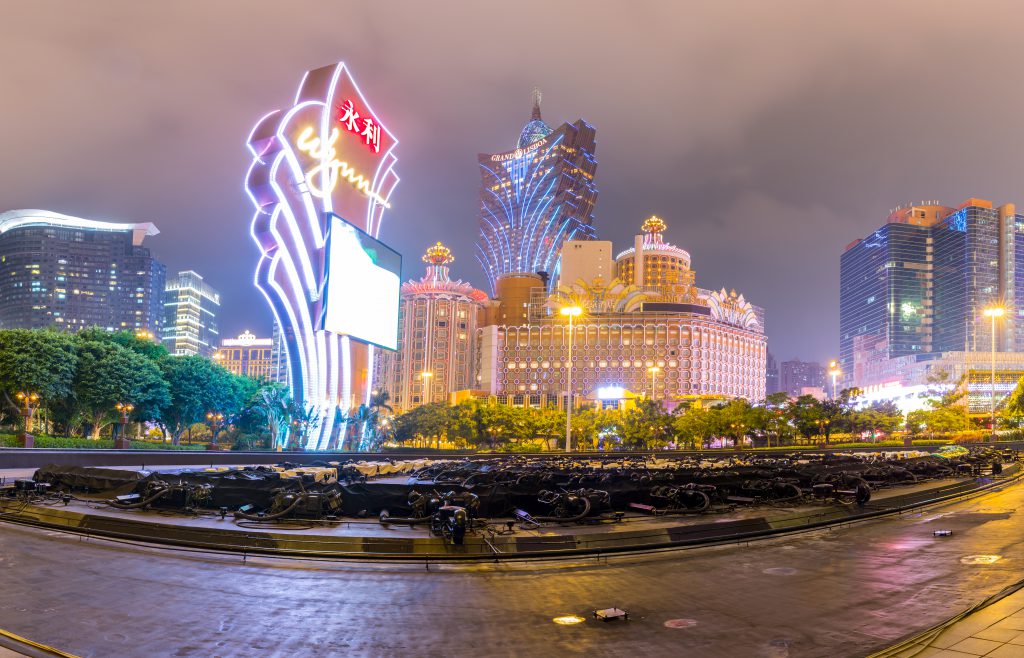 Macau expects a bill to amend the city's gaming law to be available next year, ahead of the expiry of the current casino concessions in June 2022. The six operators will have to go through another public tender, but at present, there is no clarity as to how the process will be carried out, or what extra conditions may be attached to the licenses if any. Most market observers expect a clearer mandate to diversify their offerings away from gaming. The government has also said there are no plans to delay the tender. Some analysts have postulated that a delay is likely given the disruptions due to Covid-19.