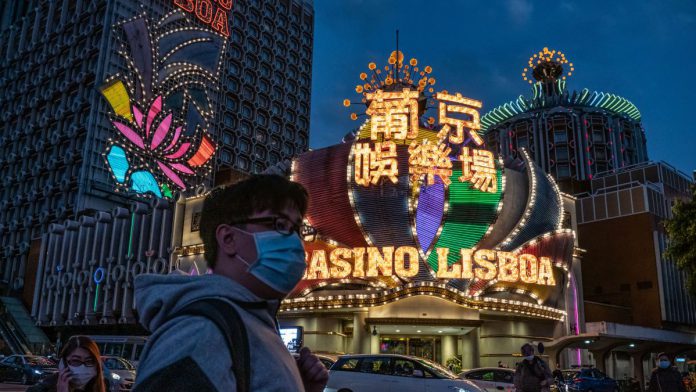 Macau's Q1 gross gambling revenue breakdown clearly shows the mass market pulling ahead of the VIP sector, which is struggling to recover from the double-whammy of Covid and policy pressures in China.
During the first three months of the year, mass market baccarat made up 51 percent of the MOP23.64 billion ($2.95 billion) in GGR, with the VIP sector at just 38 percent, according to figures released by the Gaming Inspection and Coordination Bureau. The figures are more skewed in the mass market's favour if you add in revenue from slots and other games such as slots and live multi-games.
The VIP market has been declining as a percentage of total revenue over recent years, dropping from more than 70 percent in 2010 as operators have prioritized the higher margin mass and premium mass segment in line with government policy.
However, the VIP sector is facing particular challenges with the junket agents, who facilitate the movement of funds for high rollers, under pressure from Beijing's campaign to stamp out cross border capital flows for gambling purposes.
JP Morgan estimates that the VIP sector has only recovered to about 20 percent of its pre-Covid levels in the first quarter.
For both segments, the figures show a sequential improvement from the prior quarter indicating that the recovery is continuing, albeit slowly. Mass market baccarat took in MOP12.06 billion compared with MOP11.85 billion the prior quarter,, while the VIP segment generated MOP9.12 billion, up from MOP7.62 billion. Slot machine revenue was flat at MOP1.1 billion.
The industry is now looking ahead to the May Golden Week holiday with optimism the pace of recovery may step up a notch. The break has been extended to five days this year, which is long enough for many to consider a short-haul flight to Macau.
According to figures from Trip.com, China's biggest online travel operator, Chinese bookings for the five days are up 20 percent from pre-pandemic levels for the same period. At the same time there has been a 140 percent surge in internet search volumes related to flights to Macau.
The demand for accommodation in Macau has jumped, with bookings through Trip.com's online platform double the level of the same period in 2019. Rates for high-end hotels have jumped by about 30 percent.
The data confirms anecdotal evidence of strong pent up demand from Mainland Chinese to resume travel. However, the easing of restrictions is moving at a snail's pace and the Mainland still has not re-introduced the ability to apply for individual visit scheme visas via e-kiosks, or group visas. 
Macau authorities are in talks with Mainland officials of ways of easing mobility between China and Macau.