Macau is averaging over 40,000 tourists, with expectations that the Chinese New Year holiday will bring in up to 60,000 at its peak.
The figure marks a significant turnaround from the past three years, which have seen tourism numbers sharply deflated by COVID-related entry measures, strict testing and lockdowns.
Current expectations are for an average of 47,000 daily tourists during the CNY period, starting on January 22nd, with the SAR's tourism authority already noting that on Saturday 55,000 tourists had entered the city, smashing previous visitation records during the pandemic period.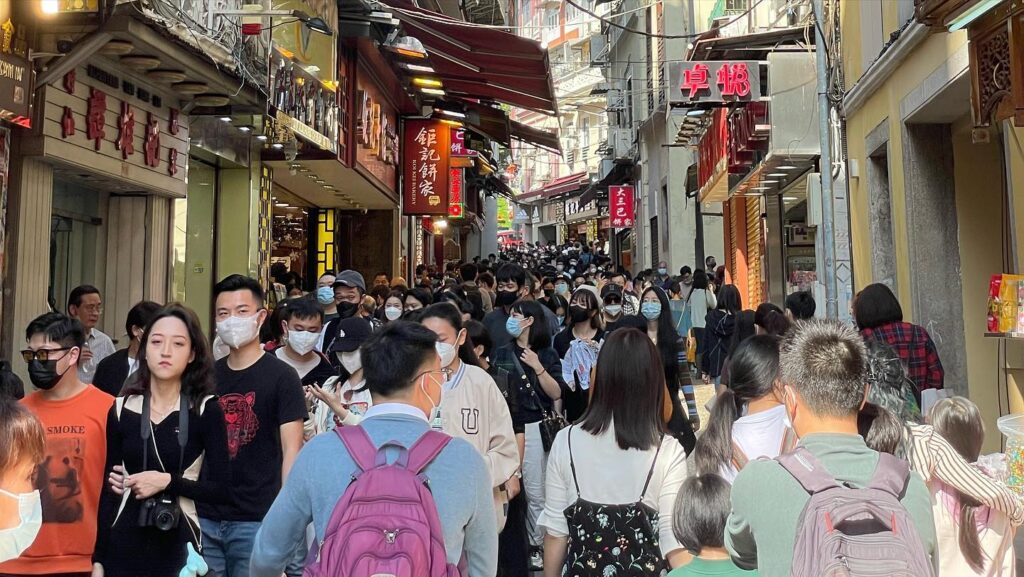 The head of the tourism bureau told TDM Canal Macau that "we won't have 55,000 visitors every day, but we are still expecting an average of 47,000 visitors".
Macau recently dropped its entry restrictions for visitors from mainland China, Taiwan and Hong Kong and eliminated all quarantine requirements for visitors from non-Chinese nations, marking the end of a difficult period for Macau's gaming operators and the economy as a whole.
Despite the relaxation of measures, on January 8th, and the previous implementation of eVisas for China last year, group tours have yet to be authorized by mainland authorities, even though visitors are entering on individual visas and joining local tours upon arrival in the SAR.
Speaking of the group tours, the head of the tourism bureau lamented the lack of organized visitation, noting that "we still don't have tour groups, we still haven't received any updates (from mainland Chinese authorities) regarding that, and until we can resumre that form of travel than we might not be able to return to the levels we were seeing in 2019".
The tourism chief disclosed the expectations to local broadcaster TDM Canal Macau, slightly curbing expectations for a stronger increase after the SAR saw 46,000 visitors on Friday (the 13th), alone, much higher than the total average recorded during the entire year of 2022.
Nearly 1 million mainland Chinese residents have also reportedly applied for entry permits to Macau and Hong Kong since authorities relaxed their measures, and improved transit between the two specially administrated regions and mainland China are set to further boost tourism.
The mainland authorities have designated the CNY holiday period as running from January 21st to 27th, with estimates that up to 70 percent of hotel rooms, of the city's supply of 44,000, are already reserved for the holiday period.
The figure is a sharp increase from the 42.2 percent occupancy rate seen in December, according to Macau tourism office data, which was a 9.4 percent drop annually.
Among the December figures, Macau's five-star operators were the hardest hit, on an annual basis, seeing a 10.2 percent fall in occupancy, at just 39.9 percent.
During the first 11 months of the year, the hotel occupancy rate fell 14.5 percent year-on-year, to just 39 percent, with five-star hotels registering just 35.8 percent occupancy, down 13.1 percent yearly.
Aside from its main source market, mainland China, Hong Kong is also being targeted for an influx of visitors, with expectations that up to 10,000 visitors from the neighboring SAR will be possible, if transportation improves.
Currently the tourism office estimates that around 6,000 visitors are arriving daily from Hong Kong, a strong increase from the 1,000 registered prior to opening up.
"Currently we still have some constraints regarding the number of ferries and buses (running between the SARs)," the tourism head told the broadcaster.
"Gradually, as the supply of routes increases, the number of tourists from Hong Kong will increase. I hope that we can reach 10,000 daily visitors from Hong Kong," noted the tourism bureau head.
Links between mainland China and Hong Kong are also improving, set to provide an indirect avenue of travel to Macau, with the two territories resuming the high-speed rail link after nearly three years of inactivity, with Sunday marking the first arrival of mainland passengers to the city.
Despite the improvements in travel, a wave of infections sweeping mainland China and the two SARs has some worried, with Beijing authorities noting that 60,000 deaths were recorded in just one day, and estimates that up to 1 million COVID deaths have been recorded in mainland China just this year.