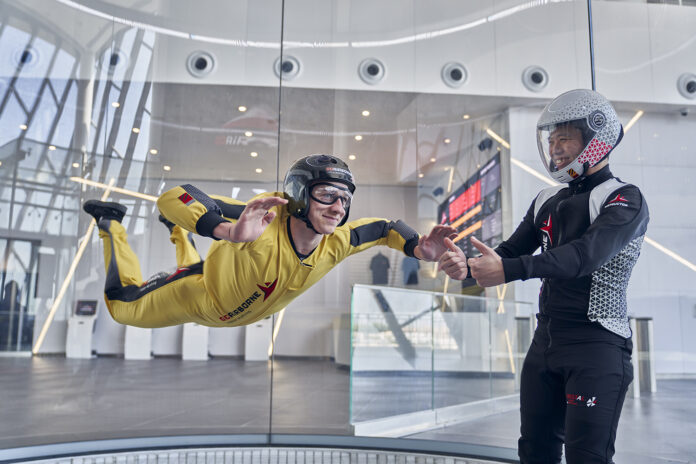 GoAirborne, the first-ever competition standard indoor skydiving facility in Macau is delighted to announce that their Brand Ambassador Kyra Poh and Chief Instructor Toms Ivans, won the Gold and Bronze medals at the Indoor Skydiving – Solo Freestyle events (Open Category) at the 4th FAI World Cup of Indoor Skydiving 2022 (WCIS) respectively.
Toms also won another Silver Medal at the 2nd FAI European Indoor Skydiving Championships (EISC) held between 5th April to 10th April at Charleroi, Belgium.
Organised by the FAI Skydiving Commission (ISC), the annual world-class competitions were hosted at AIRSPACE Indoor Skydiving in Charleroi, South of Brussels, Belgium. This year, about 400 elite skydiving athletes from around the world gathered to compete for the most prestigious titles in the flying world in three categories:"Formation Skydiving", "Dynamic Skydiving", and "Freestyle".
Freestyle is a solo discipline with five rounds of performances. Athletes would be doing three rounds of free routines to music and two rounds of compulsory to allow judges to review the overall performance according to their execution of sequences, technicality, skills and fluency. Well-known for their incredible body flying stunts, Kyra and Toms impressed the crowd by demonstrating the perfect balance of creativity, beauty, complexity, and compositions of tricks along with the music in their freestyle routines.
The two round compulsory routines were also flawlessly completed in various sequences and choreography. Kyra and Toms both topped out among 19 competitors worldwide in WCIS with their outstanding performances. Kyra won the Champion in the WCIS's Indoor Solo Freestyle Open with 73.6 points after finishing above Poland's Maja Kuczynska, while Toms won 3rd place in the event with 71.9 points. Following the success in WCIS, Toms outdo himself on the journey by winning another Silver Medal in the Solo Freestyle Open at EISC, coming in ahead of Germany's Rafael Schwaiger and Laurie Lubbe from France.
With over ten years of skydiving experience, the 20-year-old indoor skydiver Kyra Poh has been flying in the wind tunnel for over half of her life and has won an impressive list of gold medals and titles from different global competitions since 2016.
She is also a multiple Guinness World Records holder, highlight records include "Most number of 2-way hula hoops fly through (49 in a minute)", "Most number of 2-way reverse Eagles (26 in a minute)" and "Most number of backwards somersault (68 in a minute)".
At the age of 14, she won the solo speed and freestyle categories at The Wind Games 2017, one of the sport's biggest competitions, and was crowned the"World's Fastest Flyer".
Kyra was also appointed by Red Bull to be their exclusive Red Bull Athlete in Singapore and the PASSION Ambassador for the Singapore Tourism Board. To pursue her passion for indoor skydiving, she is currently coaching younger indoor skydivers around the world and will also involve in relevant training events as a Brand Ambassador of GoAirborn