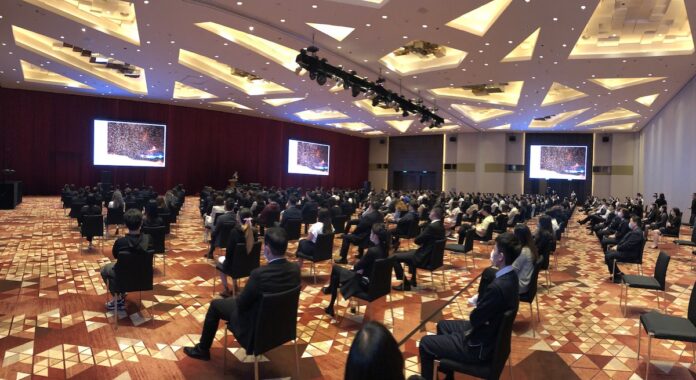 [Press Release]
Melco's more than 300 colleagues attend 'Get the Jab' vaccination program health seminar as company announces on-site outreach vaccination session to support government efforts to build herd immunity.
Further to Melco Resorts & Entertainment's recent announcement of its earmarking close to MOP 16 million towards the Melco "Get the Jab" immunity incentive program, a special seminar titled 'Understanding the benefits of the COVID- 19 Vaccination' was organized and attended by more than 300 colleagues both in person and online. Melco was honored with the presence of Dr. Tai Wa Hou, Representative of the Macao Health Bureau, President of Macau Physician Association of Public Hospital and Clinical Director of the Public Conde S. Januário Hospital Center as guest speaker of the seminar hosted earlier this week at City of Dreams.
With colleague immunity established as a key Company objective to ensure a safe environment for colleagues, guests and the community, Melco is supporting the government's efforts towards community-wide vaccination. In coordination with the Macau Health Bureau, the Company also announced that it will be providing colleagues with the chance for on-site outreach vaccination at Studio City Event Center between June 18-20. All Melco colleagues, family and friends are welcome.
Amongst the 'Get the Jab' immunity incentive program, subject to applicable terms and conditions, each fully vaccinated Melco colleague will receive MOP1,000, and once the Company reaches certain immunity targets, up to six colleagues may win MOP1 million each. Furthermore, the Company continues to arrange shuttle transportation for colleagues to attend vaccination appointments and grants two full days of paid vaccine leave.