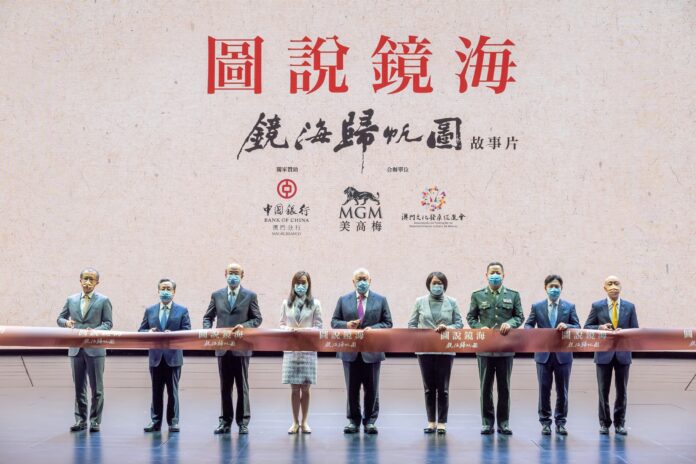 MGM China said it has teamed with local artist Lok Hei to present a film on Macau's history and culture to celebrate the 22nd anniversary of the established of the Special Administrative region.
The film, "Macau: Back to Common Roots Narrative Film" was presented at MGM's theatre and combined visual art and cutting-edge technology.
The 28-minute film chronicles the transformation of Macau over the past centuries. It comes with two versions: the Cantonese version with Chinese and Portuguese subtitles, and the Mandarin version with Chinese and English subtitles. Audiences will experience the enthralling visual effects of the 900-square-meter ultra-HD LED screen at the MGM Theater.
Lok Hei, Executive Producer of the film, said: "The Film recounts the period spanning from 500 years ago when Macau was once a fishing village to Macau's Return to the Motherland in 1999. It relates the city's historical development via the medium of paintings.
Ever since 'Macau' marked its first appearance on the world map, the city has been regarded as part of the Mainland and reached myriads of record-breaking achievements making its people proud. Understanding our roots enables us to live and thrive in this city with confidence, this is exactly why we created the Film in the first place." 
Pansy Ho, Co-Chairperson and Executive Director of MGM China Holdings Limited, said online, "With the support of the nation, the Macau SAR has successfully implemented 'One Country, Two Systems' and developed a peaceful, loving and pleasant city for its residents. As an enterprise rooted in Macau, MGM has been committed to perpetuating the spirit of 'Loving the Motherland and Loving Macao", and the key of which lies in bolstering patriotic education for the youth.
MGM will continue to ride on its edges to nurture youths' interest in Macau's history, which is crucial for local youths to deepen senses of belonging, identity and pride as a Chinese and Macau's resident." 
The "Macao: Back to Common Roots Narrative Film" will be on view at MGM Theater from time to time between January 23 and the end of 2022. Free admission is available for ticket holders. The show will be first open to education institutions, government departments and community associations.