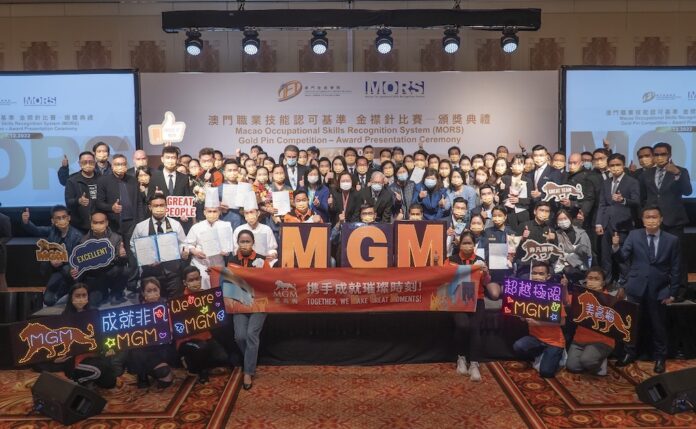 Committed to promoting Macau's position as a World Centre of Tourism and Leisure, and facilitating tourism development in the Greater Bay Area (GBA), MGM China has been heavily investing in staff training and development, with an aim to nurture tourism professionals.
MGM attained a total of 6 Gold prizes at the Macao Occupational Skills Recognition System (MORS) Gold Pin Competition, once again becoming the biggest winner of the year. Such a standout result stands as a manifestation of MGM's excellence in tourism service and standards.
MGM garnered Gold Pin awards in each of these 6 categories, including Bartender, Chinese Chef (Cantonese Cuisine), Chinese Chef (Dim Sum), Waiter/Waitress (Western Restaurant Service), Concierge and Bell Attendant, and Room Attendant. These accolades were received by MGM's Bartender Silan Nino J Angeles, Chef de Partie Lao Heng Man, Chef de Partie Li Shijian, Food & Beverage Supervisor Navarro Alberto Miranda, Front Office Attendant Wong Sio Man and Room Attendant Tan Chunlong, respectively.
The Company's management team and Golden Lion team members attended the award presentation ceremony to show their appreciation and support towards the winning contestants.
Tracy Wong, MGM's team member who won Gold Pin Award at Concierge and Bell Attendant category, said, "It is a great honor to win the first prize at this year's competition, which marks my first time joining the MORS contest. I would like to thank the Company for gearing us up with various pre-competition preparations and allowing us to work flexible hours during the training. This award has given me extra confidence to keep offering the best service to guests."
MORS is a certification initiative launched in 2001 by the Macao Institute for Tourism Studies (IFTM). This year, 47 MGM team members participated in 10 categories at the MORS competition, covering various fields like food and beverage, concierge, room service, security, etc. A total of 14 team members were shortlisted for finals, with 6 of them clinching the Gold Pin Awards.