Macau's gross gaming revenue (GGR) reached an estimated MOP$6.65 billion ($826 million) for the 8-day-long National Day Golden Week from September 29th to October 6th, according to JP Morgan.
This suggests that Macau's GGR has recovered to nearly 80 percent compared to Golden Week in 2019. The mass market has been a main driver for Macau, as it has proven this again this time.
JP Morgan notes that the mass GGR has recovered well ahead of the whole industry, as the mass GGR during the Golden Week 'has likely recovered to 110-120 percent of 2019 Golden Weeks, comfortably exceeding a 100 percent bar that we think many buy-side had'.
The Golden Week data also represents MOP830 million ($103 million) per day in GGR, which is by far the best print since the re-opening and well above May Day Golden Week with MOP645 million ($80 million) per day. The investment bank mentions that the print implies the holidays probably generated over MOP930 million ($116 million) per day in GGR (October 1st to 6th), followed by MOP500 million ($62 million) per day run-rates for the last two days (October 7th – 8th).
Regarding Macau's 3Q23 earnings season, after stock pull-backs in recent weeks, analysts from JP Morgan note that Macau gaming stocks are probably closer to the bottom than the peaks.
'The risk-reward profile is tilting favorably, as we see deep value in these names trading at a 10 percent free-cash yield and 9x EV/EBITDA on average (FY24E), two standard deviations below historical levels. We think long-term investors can start bottom-fishing around these levels or around 3Q earnings.'
According to Macau tourism authorities, Macau welcomed over 932,000 visitor arrivals during Golden Week, averaging 116,000 visitors per day, a number exceeding previous government estimates.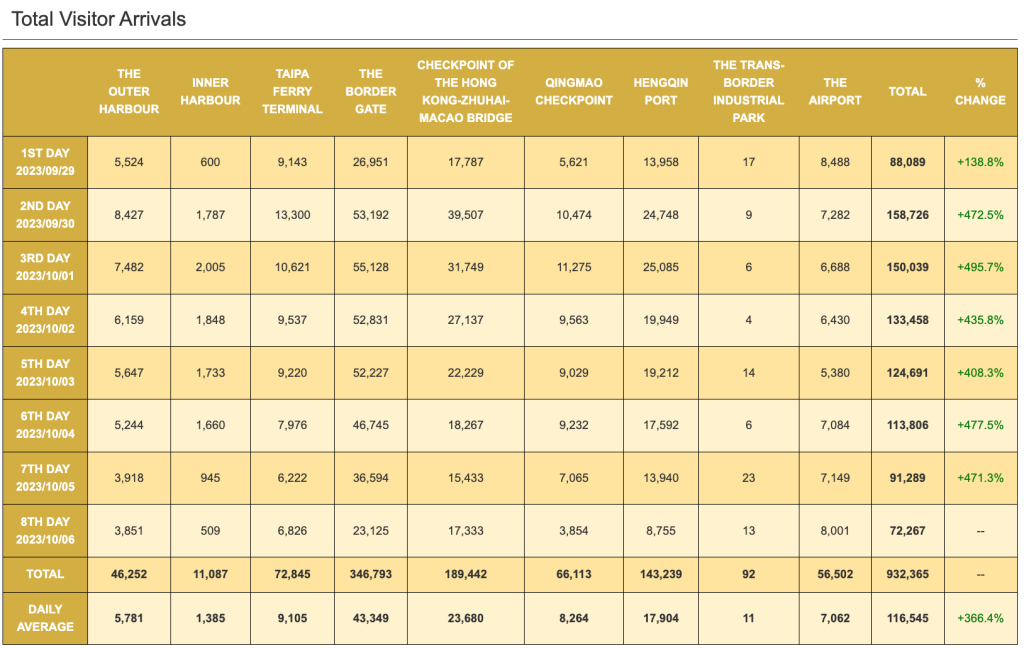 The daily average was 366 percent higher than the same period last year and represented a recovery to 84 percent of pre-COVID levels. Hotel occupancy also reached 87.9 percent.