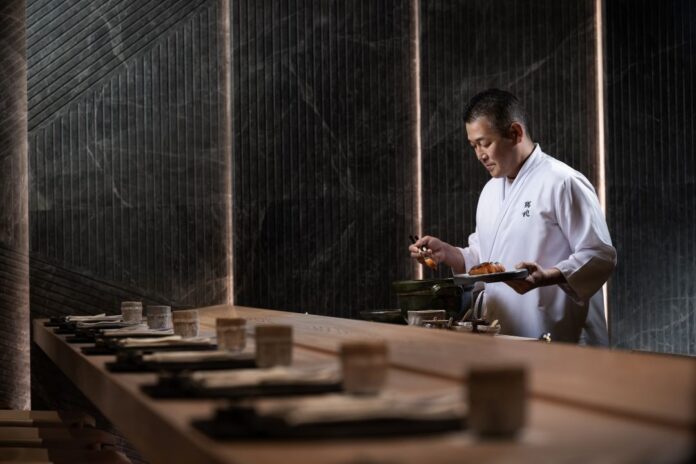 The first branch of decorated Japanese kappo restaurant Zuicho opens at Grand Lisboa Palace Resort Macau ("Grand Lisboa Palace") on 18 November, an exciting addition to the Resort's illustrious premium dining options with a focus on immersive and interactive Japanese gastronomy.
As the brand's first restaurant outside Hong Kong, Zuicho at Grand Lisboa Palace introduces to diners an elevated kappo experience, featuring well-honed, diverse culinary techniques imparted from traditional kappo masters.
Helming the culinary team is Head Chef Yoshinori Kinomoto, an Osakan native with over 28 years of experience in Japanese cuisine. In addition to Tokyo and Osaka, Chef Kinomoto has long been based in Ishikawa, a prefecture home to abundant seafood and where he further polished his keen sense for the seasonality of sea produce.
His insightful experience in preparing fish promises a wide variety of creative, fresh maritime flavours to come for Zuicho. Proficient in numerous cooking methods, especially kaiseki and edomae sushi, Chef Kinomoto carefully curates the order and serving time of every dish in the menu, creating a personal Zuicho experience for every diner with great culinary know-how and hospitality.
Zuicho in Hong Kong was awarded one Michelin star in its first year of operation in 2021 and became the region's first traditional kappo restaurant with the prestigious honour. Now in Grand Lisboa Palace, it will continue to uphold premium dining standards, striving to delight Japanese cuisine aficionados who are looking for the finest in town.