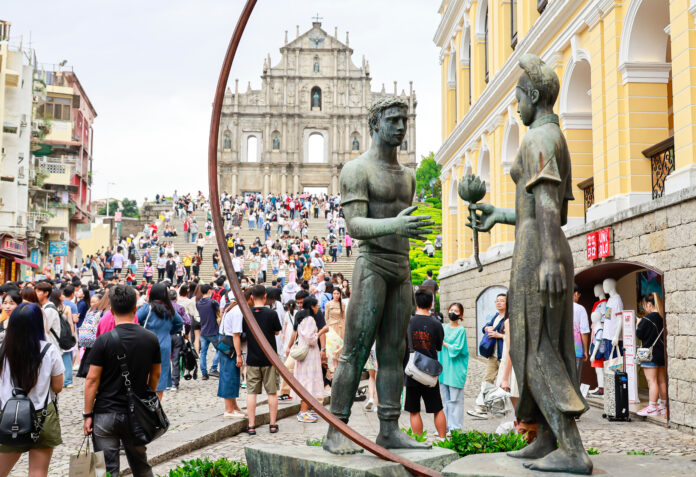 Macau's tourism recovered to 62 percent of pre-COVID levels, with about 493,000 visitors during a five-day period running from April 29th to May 3rd, affirmed the Macao Government Tourism Office (MGTO) on Friday.
The average occupancy rate for Macau's hotel rooms was 85 percent, with the average room price being MOP1,804.30 ($223.20).
According to preliminary statistics mentioned in a note, the MGTO notes that on April 30th, the second day of the mainland China public holiday, Macau received 134,000 visitors and the hotel occupancy rate reached 93.2 percent. Both figures marked a new record in the last three years.
Among nearly 493,000 visitors, 76.3 percent – or 376,000 – came from mainland China. Hong Kong visitors reached 89,000, accounting for 18 percent.
The MGTO points out that the daily average visitors in Macau during Labor Day break reached nearly 99,000, up 262.5 percent compared to 2022.
The Chinese central government's Ministry of Culture and Tourism saw domestic travelers reach 274 million, topping 120 percent of pre-COVID levels. 
According to China's Online Travel Agency (OTA) giant Trip.com Group, outbound travel bookings skyrocketed for the holiday period. Booking volumes from mainland China to Macau exceeded the same period in 2019.
China's National Immigration Administration also revealed that all Chinese borders recorded the peak passenger flow on April 30th, with 1.38 million people crossing the border, making a record since China lifted all COVID-linked restrictions.
Official data also indicate that 6.25 million people passed immigration checkpoints during the holiday.