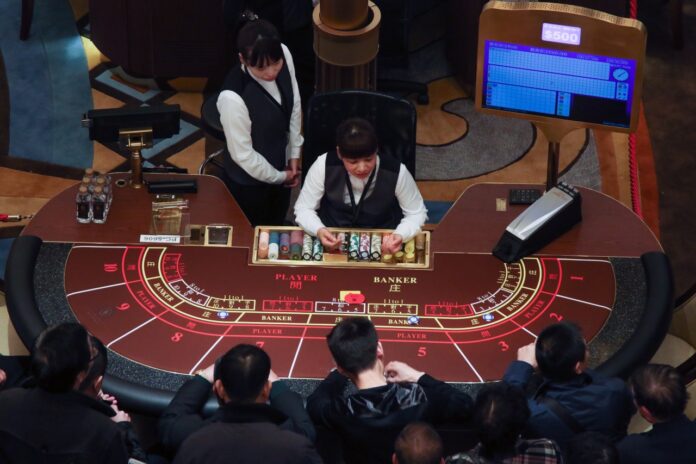 Berstein forecasts a 70 percent leap for Macau's September GGR from August's on a monthly basis, down 83 percent from September 2019 base levels. 
Macau's daily gross gambling revenue for the start of the first week of September 2022 remained weak, registering a marginal MOP 88 million, Bernstein's weekly gross gambling revenue report noted.
While marginal, revenues registered an upward positive swing on a week-on-week case basis, up 12 percent compared to the MOP 79 million ($9.77 million) ADR during Aug 22-31.
Based on the first week GGR numbers for September 22, the brokerage views the monthly revenues for Sep 22 to spike with a decent rise in Average Daily Revenue (ADR).
"We forecast Sept 22 GGR to be down 83% vs. Sept'19," the brokerage remarked, but further read that ADR is expected to remain up 70 percent on a month-on-month basis against the August 22 GGR numbers.
Bernstein's report also warned that the same revenue "could be lower if China COVID outbreaks further hurt travel sentiment and visitation into Macau does not pick up."
With recovery constrained by various travel restrictions in China, and players remaining cautious on travel, Macau reopened borders from September 1st, to overseas arrivals allowing citizens from 41 countries
However, given that non-mainland visitors still need to do 7-day quarantine upon arrival in Macau, the brokerage does not expect this requirement will be lifted in the near future, so to sum-up further reads, "practical benefit is essentially nil".
China Lockdown
China travel will continue to be constrained in the near future as a result of the ongoing regional COVID outbreaks in China, which have resulted in lockdowns in Chengdu with a 21 million population, and several areas of Shenzhen and Dalian, among a host of other cities.
Until lockdowns ease, people are confident enough to travel, and restrictions are reduced, visitation into Macau will remain tepid, the brokerage report read.
The pace of GGR recovery in September and October is still uncertain and largely dependent on whether China can quickly contain the regional COVID outbreaks and resume travel, the report further read.
Macau's (month-to-date) MTD GGR for the first week of Sep 2022 of MOP 352 million ($43 million), with ADR of MOP 88 million ($11 million), is down 88% compared to Sep'19 ADRs and down 55 percent on YoY basis compared to Sep'21 ADR.
However, the same ADR is up 25 percent on a month-on-month basis if compared with Aug'22 ADR numbers.
GGR remains constrained by travel restrictions across China and into Macau.
Visitations
Average daily travel in or out of Macau plateaued at only 29,400 in the last week of August between Aug 25-31, down 1 percent on a week-on-week basis, compared to 29,600 of the previous week from Aug 18-24.
Daily visitation has been exceeding 20,000 since Aug 13, except on Aug 25 due to Typhoon, though still significantly below the 37,000 average mark as seen in 1H22.
Average Daily Visitations in the month of August from Aug 1-31 ended at 21,200, increasing by 30x compared with July average of mere 687 visitors. Still, the same number is down 63 percent from the previous peak month of May'21, which recorded 57,000 daily average visitors since COVID began, the report read.
Pressure on Stocks
Stocks have been pressured by COVID outbreaks, however, in the long-term Bernstein remains bullish on Macau's recovery driven by border reopening and led by the mass segment or premium segment.
Bernstein's top pick related to Macau is Sands China, which offers the best risk or reward opportunity at current valuations, while MGM China looks exceedingly cheap and is a good choice if liquidity constraints are not an impediment, as the stock has more limited trading volumes and is relatively small.
For US-listed stocks playing the Asia recovery theme – LVS (Las Vegas Sands) and MELCO Resorts are top picks, the report read.
Galaxy remains the "safe choice" for exposure to a Macau recovery and offers a compelling long-term thematic of mass share gain on capacity expansion.
MGM Resorts is the brokerage's pick for US gaming recovery and exposure to the fast-growing interactive gaming/sports betting opportunity, along with MGM's completion of its real estate portfolio and reallocation of capital to new investments, deleveraging, and return of capital to investors.
While Wynn Macau and WYNN are both expected to Outperform, Bernstein's report finds relatively more compelling opportunities in other stocks at present as Wynn carries more risks.
SJM remains Market-Perform as the Bernstein report sees no discernible reason to invest in the stock, but according to the brokerage thesis, Bernstein does not see the stock benefiting from any recovery momentum.