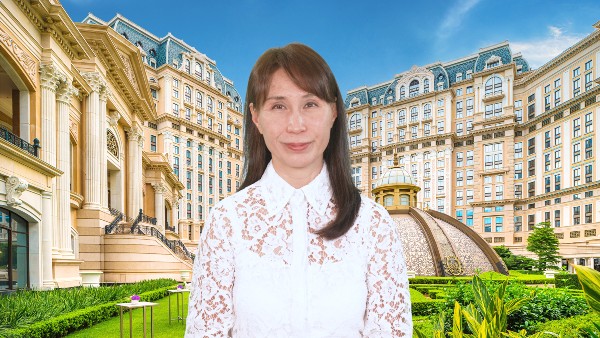 SJM Resorts, S.A. received the 7th Macau European Chamber of Commerce Award for EuroExcellence in Luxury, in recognition of its pioneering efforts in bringing luxurious Lisboa-branded hospitality to Macau, including its latest triumph the Grand Lisboa Palace, which truly dazzles as an oasis of East-meets-West luxury.
The MECC 7th Gala Dinner 2021 was held at Grand Lisboa Palace Resort Macau on 17 September. Head of the European Union Office to Hong Kong and Macau and Honorary Chairman of MECC Ambassador Thomas Gnocchi, Honorary Consul of Portugal in Hong Kong and Honorary Chairman of MECC Dr. Ambrose So, and Chairman of the Board of Directors of SJM Resorts, S.A. Ms. Daisy Ho delivered their greetings via videos. Other officiating guests included Consul General of Portugal in Macau and Hong Kong and Honorary Chairman of MECC Ambassador Paulo Cunha Alves and President of the Board of Directors of MECC Mr. Carlos Duque Simões. Dr. Rui Cunha, Secretary-General of SJM received the MECC Award for the company.
Ms. Daisy Ho, Chairman of SJM, said, "We are honored to receive the MECC Award for EuroExcellence in Luxury. This accolade is especially significant to us, as it recognizes SJM's long-term contributions in bringing luxury hospitality to Macau. As Macau's new landmark, the Grand Lisboa Palace Resort continues the legendary Lisboa's pioneering role in hospitality and entertainment. From architecture to interior design, and from gastronomy to hotel and leisure facilities, our patrons will be able to experience the best from the East and the West. SJM has always been in the forefront of upholding and enhancing Sino-European exchanges and cooperation. We will continue to work with MECC to promote economic and cultural exchanges between Macau and Europe, further reinforcing Macau's role as a platform between China and Portuguese-speaking countries."
The aim of MECC is to award the highest local achievements in luxury, food and beverage, innovation, and Greater Bay Area Sino-Europe Cooperation, in honor of their significant contributions to Macau's sustainable development, global business networking and promotion of the city's unique Sino-Western cultural exchange.