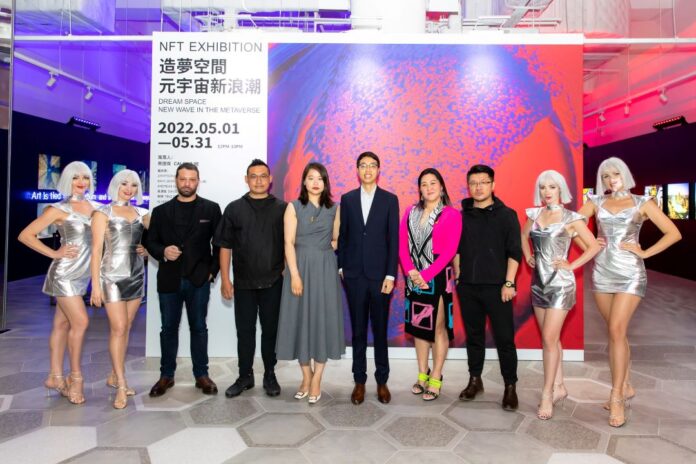 The Metaverse Industry Association of Macau's first NFT exhibition, "Dream Space: New Wave in the Metaverse" made its debut on the Labor Holiday at H853 Fun Factory with 37 artworks from the world's notable NFT artists.
MIAM has also set up a HK$1,000,000 Macau-exclusive creator's grant fund that asks creators to create Macau-themed avatars, buildings, and games in The Sandbox.
Thomas Ao, founder and President of MIAM, remarked, "NFT is one of Metaverse's core representations. Underneath it is an intricate and intriguing 'dream space' that encompasses art, technology, and finance. Having introduced Macau to its first NFT exhibition, MIAM is fulfilling its ambition to propel Macau as part of this inspiring global megatrend."
One exhibit, "Smoochies-LETHAL" by Andreas Ivan, was sold at 37.6 Ethereum (or approximately US$169,231) last year. This artwork is now showing at the Exhibition by courtesy of Mr. Arnaldo Ho. Other famed NFTs and artists participating include CryptoPunks, BAYC (Bored Ape Yacht Club), both courtesy of Coinunited.io, David Yuan, Ting Song and Macau-based Álvaro Barbosa.
Mr. Cai Guojie, curator of the Exhibition and former Visual-Art instructor from Macau Art Museum, noted, "As the first NFT exhibition in Macao, we hope 'Dream Space' present the city with the unique blockchain culture. Visitors can dive deep into the features of a crypto artwork and how the tech disruption has eroded traditional galleries, artists and collectors."
Visitors will also be greeted by video screenings from celebrity chef and restauranteur André Chiang's We Are What We Eat, a performance art feast for all five senses and the world's only edible NFT dining experience, as well as METASENS, a large-scale metaverse theme park backed by Imperium Technology Group Limited.
To win the Grant, creators are asked to create Macau-themed avatars and buildings around the idea of "Macau – Full of Fun" in The Sandbox.
Commenting on the Grant, Mr. Ao, said, "We are thrilled to be offering this Macau-exclusive creator's grant, as we take a firm step to support and incentivize local metaverse creativeness."
Multiple Sandbox creators' works will be showcased in the Exhibition as well. Visitors are invited to experience the fun of creating avatars and architecture at the Sandbox workshop.