As the second of the iconic promotional series this year, the "Macao Week in Tianjin" was unveiled in Tianjin on September 1st. As a major highlight, the mega roadshow is staged along the pedestrian street (Gold Street) on Heping Street in Tianjin to showcase Macao's glamorous "tourism +" to Tianjin residents from 31 August – 4 September for five days in a row.
The event seeks to attract Mainland visitors to Macao for vacation and spending during the Mid-Autumn Festival, National Day and other holidays, as part of the continuous endeavor to tap the Mainland visitor markets.
Over 50 booths highlight Macao's vibrant scene of culture, tourism, commerce and sports
The mega roadshow is staged along the pedestrian street (Gold Street) on Heping Street in Tianjin from 31 August to 4 September. Various departments of the Macao SAR Government join hands with different enterprises and businesses from Macao to roll out 57 stunning booths at the roadshow to showcase Macao's rich dimensions of tourism, trade and commerce, culture and creativity, sports, entertainment and more.
Radiating the colorful dynamic of "tourism +", the array of zones and booths are themed as follows: overview about Macao and its gastronomy, festivals and events; "A glimpse into Macao Grand Prix Museum"; MAK MAK Flash Shop; MAK MAK House of Wonder; MAK MAK Hopscotch; Macao's diverse culture; Macao's sport events; Macao's tourism products for sale; trade, commerce and economy of Macao; an informative display from Economic and Technological Development Bureau, as well as a showcase of Macao's tourism industry presented by the six integrated resorts and the airline company, among other zones.
The promotional staffers at different booths enthusiastically promote Macao's distinctive elements and products. Macao Tourism Mascot MAK MAK also greets and interacts with Tianjin residents at the roadshow for joyful moments together.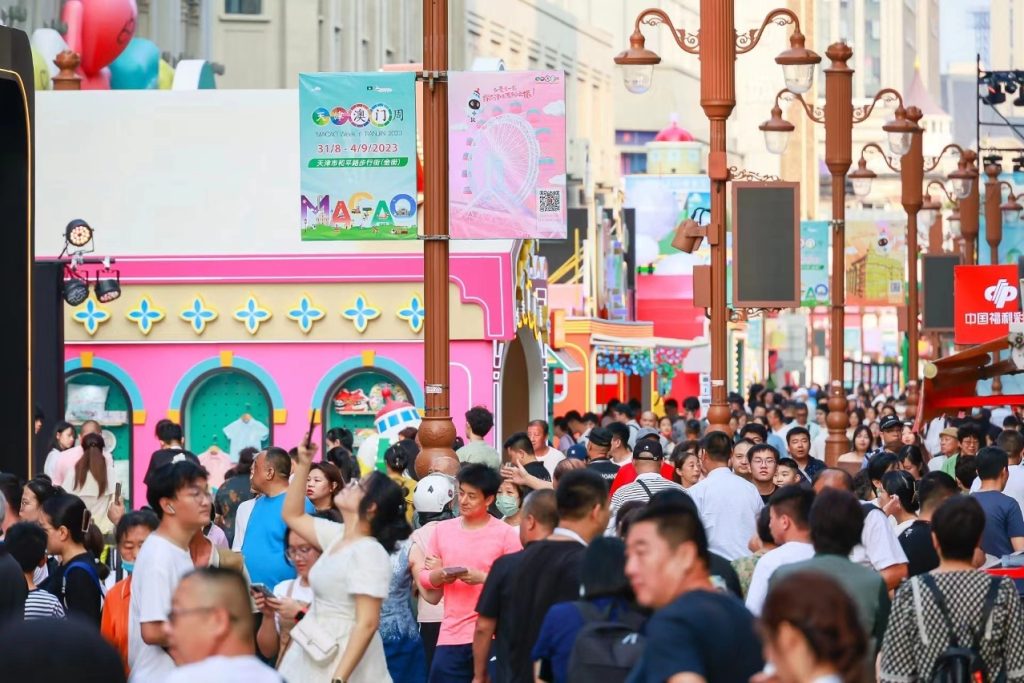 Bring abundant travel offers to Tianjin
For this Macao Week, participating tourism businesses present over 40.4 million RMB's worth of special travel offers, including air tickets, hotel stay, dining and more, for sale at the roadshow and on different platforms.