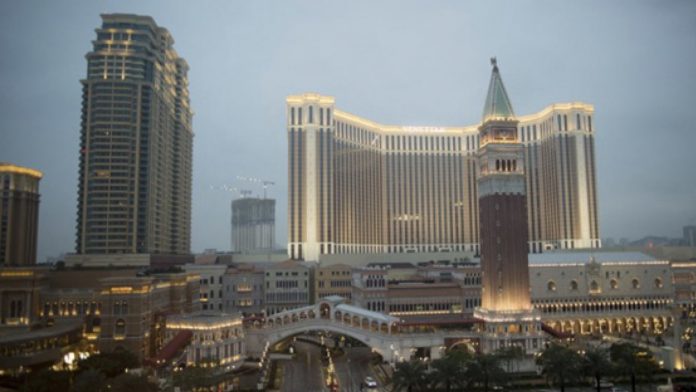 October proved to be another disappointing month for Macau's gross gambling revenue, despite the annual Golden Week holiday, with analysts once again cutting their estimates for the year.
According to figures from the Gaming Inspection and Coordination Bureau, Macau's October gross gambling revenue fell 72.5 percent to MOP7.2 billion ($899 million). The latest figures bring the year-to-date decline to 84 percent.
To be sure, it was a massive pick-up from September, gaining 228.8 percent from the prior month. But the resumption of travel visas from China has not unleashed the floodgates of visitors that some had hoped.
"The month was hampered by visitation bottlenecks due to visa processing and Covid test requirements and by weakness in VIP volumes," Bernstein Research wrote in a note. 
The firm said the monthly figures were in line with expectations, but were lower than had been expected at the start of the month. 
Visitation is expected to continue to improve in the months ahead, but there's unlikely to be any real jump in numbers until visa processing becomes same day and via e-kiosk again, which Bernstein says may take some time. 
For the whole of 2020, Bernstein analysts are now predicting a decline of more than 70 percent followed by a sharp rebound next year to leave overall GGR levels "flattish" with 2019 by the end of 2021.
Deutsche Bank has also trimmed its expectations for Macau's GGR in the light of the latest figures. It now sees 2020 GGR down 78 percent at $8 billion, down from $8.49 billion previously. It expects a 260 percent rebound next year to $28.8 billion, slightly below the $29.3 billion in its earlier forecasts.
The premium mass sector is expected to be the best performing in the next few months, with visitor numbers not yet high enough to push the mass sector ahead. VIP is facing separate issues with junket liquidity. 
Deutsche Bank sees mass market GGR down 76.7 percent at $4.58 billion this year, outperforming VIP, which is expected to decline 79.9 percent to $3.40 billion.
While analysts are broadly in consensus that the market will rebound to roughly 2019 levels next year, according to a report by TDM Macau, the government is being far more conservative. The broadcaster, which claims to have seen budget papers, says the forecast is for GGR of MOP130 billion, less than half of its last full year pre-crisis level of MOP292.45 billion. 
It only expects to collect some MOP45.5 billion in taxes from the industry and expects the economy to still be in a critical shape. The report gave no reasons for the low estimate.