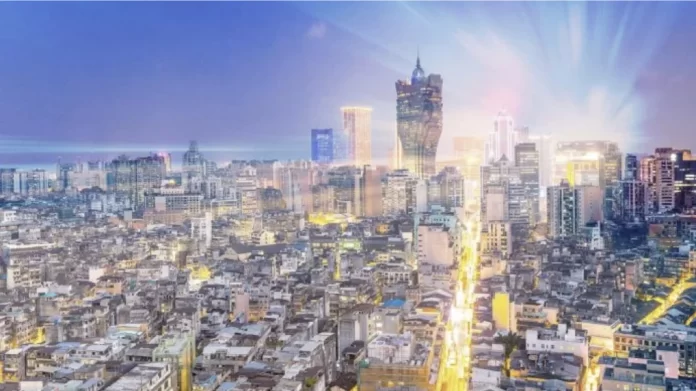 Brokerages remain optimistic for September on the opening of Macau borders for visitors from across 41 nations and new gaming license concession outcome, as travel restrictions strangled August revenues.
Analysts reflect optimism in their views and commentaries chiefly based on Macau Government to allow entry from across 41 nations as made effective from Sep 1, 2022, and the gaming license renewal sentiment, where all the six concessionaires are expected to renew their licenses.
Another indicator was the spike in the share prices as recorded on Thursday – Sep 1, 2022, especially of the companies engaged in Macau Gaming circuit.
On an overall down market day, shares of Melco Resorts & Entertainment Limited rose 3.71 percent in early trading, while Las Vegas Sands share prices were up 3.17 percent, Wynn Resorts share price spiked up 1.55%, and MGM Resorts Entertainment recorded a 0.55 percent uptick.
Share prices of Galaxy Entertainment and SJM Holdings were both up about 1 percent in Hong Kong on Thursday.
Way Forward
Recent COVID outbreaks in Tibet and China, across Xinjiang, Sichuan, Hainan, and Shenzhen continue to impact travel.
Whether China can quickly contain the regional COVID outbreaks or Macau can relax the current requirements for Mainland China travellers before the upcoming Golden Week are unanswerable points, "but travel policy needs to loosen before recovery can occur," leading brokerages note.
"To state the obvious, any meaningful recovery hinges on the travel policy easing, particularly from Guangdong, and the recent lockdown in Shenzhen and flare-ups across multiple provinces do not bode well for immediate easing, in our view. This keeps us from being too hopeful for the upcoming October Golden Week," J.P. Morgan report read.
In Hong Kong where historically 15 percent plus of Macau's gaming business originates, COVID cases are rising to 16 percent of the peak, with 8,800 per day.
Health authorities expressed concerns on the potential "sixth wave" of the outbreak and may tighten the social distancing policy again if it fails to contain the outbreak.
However, the city had reduced inbound quarantine to only three days and is eager to continue the opening of the border.
The reopening with China has been continuously delayed due to COVID outbreaks in Hong Kong and China, and we would not expect opening even until fall or winter, depending on the COVID situation, because Hong Kong Chief Executive's trip to Guangdong was cancelled due to rising COVID cases in Hong Kong and Shenzhen.
"A phased reopening with Macau is likely to begin in conjunction with or soon after Hong Kong-China reopening," the Bernstein report noted.
Positives
Bernstein forecasts "Sept 22 GGR to be down 83 percent against the Sept 19 mark, whereas average daily revenue (ADR) expected to grow 77% on a month-on-month basis against Aug'22 ADR, but could still be lower if China COVID outbreaks further hurt travel sentiment."
Stocks have been pressured by COVID outbreaks. However, long-term we remain bullish on Macau recovery driven by border reopening and led by mass/premium mass," the Bernstein report further added.
Whereas the J.P.Morgan view was quite optimistic based on the licensing take.
"We continue to expect these stocks to trade alongside news flow around licensing renewal in the near term, rather than demand levels," J.P.Morgan report read.
Macau government announced the cap for 6,000 gaming tables and 12,000 slot machines under the new 10-year concession tenure.
Vide the same concession tenure announcement the minimum GGR targets are mandated for 2023.
The mandate emphasizes the fact that concessionaires need to generate a minimum of MOP7 million ($0.86 million) revenues from VIP Tables or MOP0.3 million ($0.03 million) from Slot Machines in 2023.
Investors
"We view the risk or reward as positive for patient long-term investors, and we would still be buyers," J.P. Morgan report read.
Demystifying the logic for being buyers, the J.P. Morgan report further said investor positioning is light, and buy-side expectations are very low, as reflected in muted stock reactions to negative news.
Furthermore, demand is at the very bottom well, near-zero levels, so we can at least expect a directional rebound into 4Q22.
Also, the policy cycle seems to be at the bottom as well, not just from China's reopening but also locally on the license renewal front.
"We expect headlines over the next six plus months – initially on the successful renewal of licenses in next 3-4 months, followed by further and gradual reopening likely into early 2023, to work as incremental positive catalysts," J.P. Morgan noted.
The brokerage remains bullish over Sands China stating, "Sands remains our top pick, offering a good combination of stability – strong assets + mass focus and upside potential."
Other potential stocks according to J.P. Morgan are Wynn for those investors with higher risk tolerance and who seek high beta and Galaxy for those who seek stability and low beta.