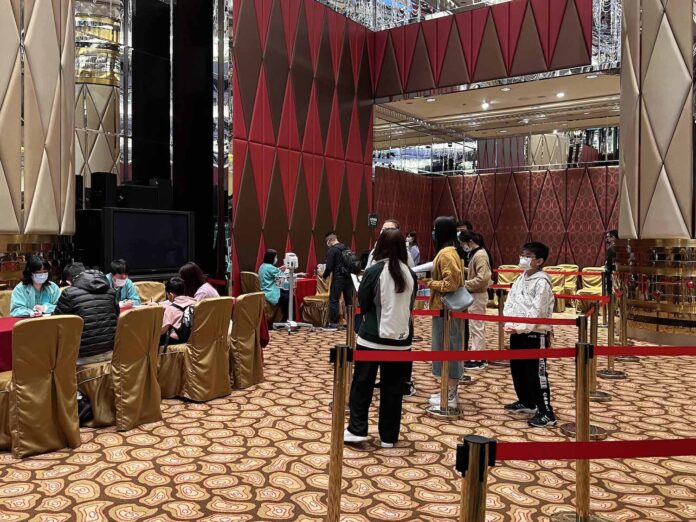 Macau posted its worst monthly gross gambling revenue since September 2020 in March, with analysts predicting further declines in April as China continues to battle Covid.
GGR came in at MOP3.67 billion ($455 million), which was down 86 percent from its 2019 levels and down 57 percent from the prior month. The decline was in line with consensus forecasts.
China continues to battle Covid outbreaks, forcing the lockdown of some of its largest cities, including Shanghai. This is seriously hindering travel from the Mainland, which is Macau's only source of visitation at present.
Any travelers coming in from neighboring Zhuhai are also now required to have a negative PCR test within 24 hours of departure, adding another disincentive to visit.
"April's GGR (and potentially May) is likely to be constrained by the Covid situation," said analysts at Bernstein.
The firm predicts April GGR will also be 86 percent below its pre-pandemic level for the month and will record a further 10 percent decline from March.
"The figure could be even lower if further travel tightening occurs," it said, pointing to the fact that Zhuhai continues to report fresh Covid cases.
Average daily revenue for March was MOP118 million, the lowest since the border with the Mainland reopened in September 2020 after the initial Covid outbreak.
Bernstein said the Covid lockdowns in China are taking a toll on the economy, with its Caixin Purchasing Manager's Index (PMI) falling sharply in March, which may force Beijing to eventually reevaluate its zero-Covid policy. The index fell to 48.1 in March from 50.4 the month before, breaching the 50-level that separates expansion from contraction.
Analysts at Morgan Stanley this week warned that the Macau operators' gas tanks "are running low" after two years of Covid, with the companies reporting $800 million in losses per quarter and $250 million in cash flow leakage.
Morgan Stanley is now expecting 2022 gross gambling revenue of $11 billion, virtually unchanged from last year, while for 2023 it forecasts $23 billion. Its estimates are some 30 percent and 17 percent below market consensus.
It sees industry-wide EBITDA as being some 76 percent of 2019 levels next year, while it could reach 105 percent the following year, assuming travel normalizes.