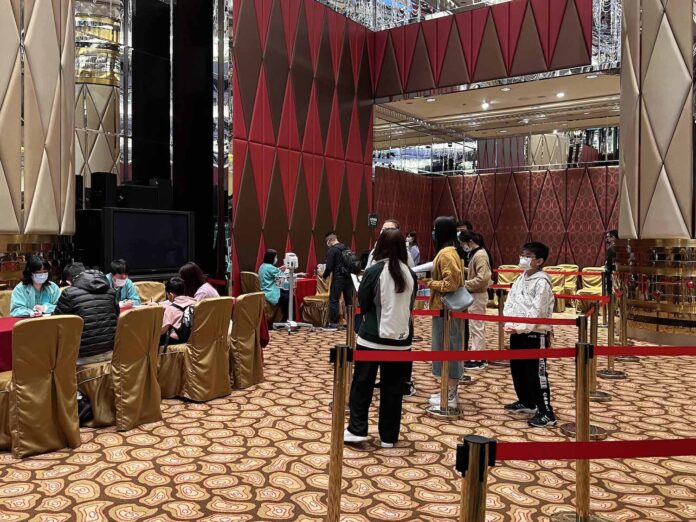 Macau operators are joining a renewed push to improve vaccination rates in Macau as the city begins more mass testing after a woman from the Mainland who visited multiple times was found to have Covid.
MGM China, Wynn Macau and Melco Resorts & Entertainment said they would offer staff three days of paid leave to accompany children or elderly relatives to get vaccinated, or boosted. While SJM Holdings said it has just wrapped up a three-day community outreach drive to encourage citizens to take the jab.
Despite widespread availability, uptake of vaccinations in Macau is still relatively low. According to Our World in Data, about 75 percent of the population is now doubly vaccinated, but only 15 percent have had the booster. The rates are also lowest amongst the most vulnerable elderly residents.
Pansy Ho, co-chair and executive director at MGM China, said vaccination rates amongst the company's staff had now exceeded 95 percent.
"To encourage our team members to extend the protection and care to their families, MGM launches this special leave program, stepping up our efforts to safeguard our team members and their families, as well as to consolidate Macau's position as a safe, livable and tourist-friendly city destination."
SJM said its three-day outreach program had resulted in a further 1,200 people getting the shot, 400 more than in its previous drive. Melco Resorts & Entertainment last week also said it would offer three-days of paid leave to help family members get protection.
Macau's operators have been proactive in backing government efforts to improve lagging vaccination rates.
The Macau government on Monday said that any resident who had been in the vicinity of Border Gate Square must undergo Covid testing after a positive case was found in Zhongshan city. The woman was a frequent traveler to Macau through the border gate.
The mandatory testing will include all residents in some 12 tower blocks in the area and was scheduled to be completed on Tuesday.