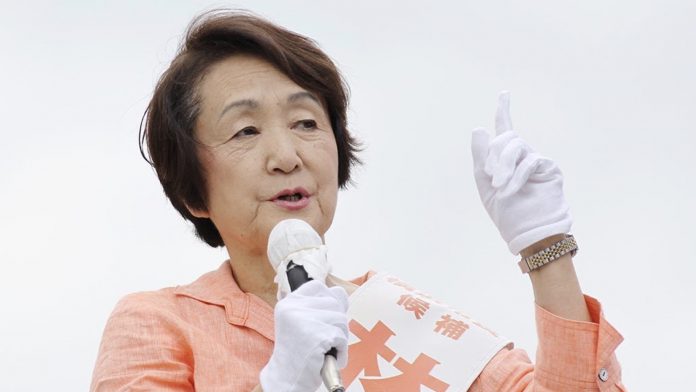 It has been the basic assumption within the IR development community that incumbent Fumiko Hayashi would be running for reelection as Yokohama mayor when her third term expires this coming August. But that prospect now appears less certain than it once did.
The main factor giving rise to these second thoughts is that the 74-year-old mayor has not been in the best of health recently, spending almost a month in the hospital in January and apparently not looking very energetic since that time.
She has served as mayor of this major city for twelve years, and she may not relish another four-year term that would put her at age 79 by the time that term ended. Hayashi herself has not yet given any public indication about her intentions, and indeed she may not yet have made up her own mind on the matter.
Nevertheless, according to at least one Japanese media report, the possibility that Hayashi may not be willing or able to run again this year is now being quietly discussed among local ruling party politicians, and some have even suggested that an alternative candidate should be ready to launch if Hayashi drops out of the race.
This speculation does raise the question of what would happen to the city's most controversial topic—the IR bid for Yamashita Pier—should Fumiko Hayashi wrap up her political career in the next six months, before the national application period begins in October.
At present, one anti-casino candidate, Masataka Ota, has announced his intention to run.
Usually an incumbent mayor would have a keen advantage for name recognition and for other reasons, so in that sense the loss of Hayashi would be a big negative for the conservative ruling party. On the other hand, Hayashi's disingenuous handling of the IR issue angered many local residents, so presumably a fresh ruling party candidate would at least be spared the same whiff of public betrayal.
Another possibility, however, would be an echo of the experience in Hokkaido, where pro-IR Governor Harumi Takahashi was followed in April 2019 by a member of her same conservative ruling party, but one who turned out to be more wary of backing an unpopular IR initiative. It is not necessarily an absolute given that there will be any pro-IR candidate in the mayoral race if Hayashi steps down.
Another factor worth bearing in mind is that Hayashi is widely seen as a personal political client of Prime Minister Yoshihide Suga, and some believe that it will be Suga, not Hayashi, that makes the real decision on whether or not she runs for a fourth term.
However, closely related to that way of thinking is that Suga himself is now in deep political trouble, and he too could fall from power this year. Indeed, Suga's unpopularity could potentially impact the Yokohama mayoral race itself, boosting opposition chances for the win.
There's not much more that can be said at this point. We can only sketch out the broad possibilities. For those deeply interested in Yokohama IR development, only one point need really be understood—politics in the city is in flux and the outcome could easily go either way. (AGB Nippon)