The new kid on the block when it comes to gambling in India is the northern state of Meghalaya, which recently enacted legislation that will permit all forms of gambling.
The Meghalaya Regulation of Gaming Act 2021 was enacted in March last year and notified on Dec. 1st. The government has said that it has already had three applications for online licenses.
The state is in the far northeast of India and was formerly part of Assam. During British rule, it was nicknamed Scotland of the East, due to its cooler climate and high rainfall. The largely agrarian economy was hit hard by the Covid crisis and its government is seeking to boost high-end tourism in the state.
"As we have seen in many states, this venture has positive impacts not just in terms of GST revenues but also in terms of generating a lot of employment opportunities from the vibrant tourism industry," Taxation Minister James Sangma recently told PTI in relation to the decision to regulate gaming.
Locals will not be permitted to gamble either online, or in any eventual casino, which is likely to limit the appeal. The state is difficult to reach and infrastructure is poor, limiting its attraction as a luxury travel destination.
Tourists or business travelers will be asked to produce documents similar to those requested by banks for know-your-customer requirements before they can gamble.
Gambling for locals does exist under an archery-based lottery system. This practice was legalized some forty years ago and is a strong contributor to the state's coffers.
The Khasi Hills Archery Sports Association organizes the lottery, which involves 12 archery clubs. Each day 50 archers shoot 30 arrows each at 3:45 pm and 20 arrows in the second round at 4:45 pm. Bettors predict the last two digits of the total number of arrows that hit the target.
A recent report by the U.K. India Business Council found that Meghalaya, along with nearby Sikkim are two of the most gambling friendly states in India.
The non-profit business advisory group based its conclusions on more than 2,100 questionnaires that were distributed to operators and users across 15 Indian states. The surveys covered seven areas of the gambling industry and investigated elements such as player profiles, habits, operator revenue, and commission.
It then compiled an index of which states were most open to gaming, out of a scale of 100. Meghalaya, which is in the northeast of the country, came out on top with a score of 92.85.
Sikkim had a score of 85.71, while Andhra Pradesh, which only allows physical horse racing, came in last with 7.14.

"Meghalaya came out on top in terms of our polls, but there are many other states where we hope they will be following suit moving forward."

Chris Heyes, UKIBC
The UKIBC study highlighted the significant potential benefits to the governments and local economies from gambling legalization. In Sikkim for example, it found that gross gambling revenue in the year to March 2019 for sports betting operators was about INR230 million (GBP2.3 million).
These activities resulted in INR 50 million (GBP 500,000) annually in license fees and INR 65 million (GBP 650,000) in GST revenue in Sikkim alone.
To put this in context, Sikkim is the third-smallest state in India by GDP, generating INR 222 billion (GBP 2.2 billion) in FY 2018-19, making Sports Betting a considerable contribution to the economy, it says. If Maharashtra, for instance, were to legalize Sports Betting, this could generate INR 124 billion (GBP 1.2 billion) in extra license fees and GST revenues based on Sikkim's experience.
Still, the road to full legalization in India is likely to be a long one, with stops and starts along the way. Many commentators are calling on the central government to create a central framework that would at least provide a model for individual states to follow should they decide to legalize, especially when it comes to skill–based gambling, which has been deemed as legal by the Supreme Court.
"Courts have made it clear that skill gaming cannot be banned," India's National Law Review wrote in a recent paper. "For reasons stated above, there is an urgent need to regulate skill gaming and control illegal activities. State laws are not effective nor desirable."
It concluded that a central law and a clear and well-regulated regime would help to attract more foreign investment into an already booming industry. It would also help to hold operators accountable to Indian law and protect consumers.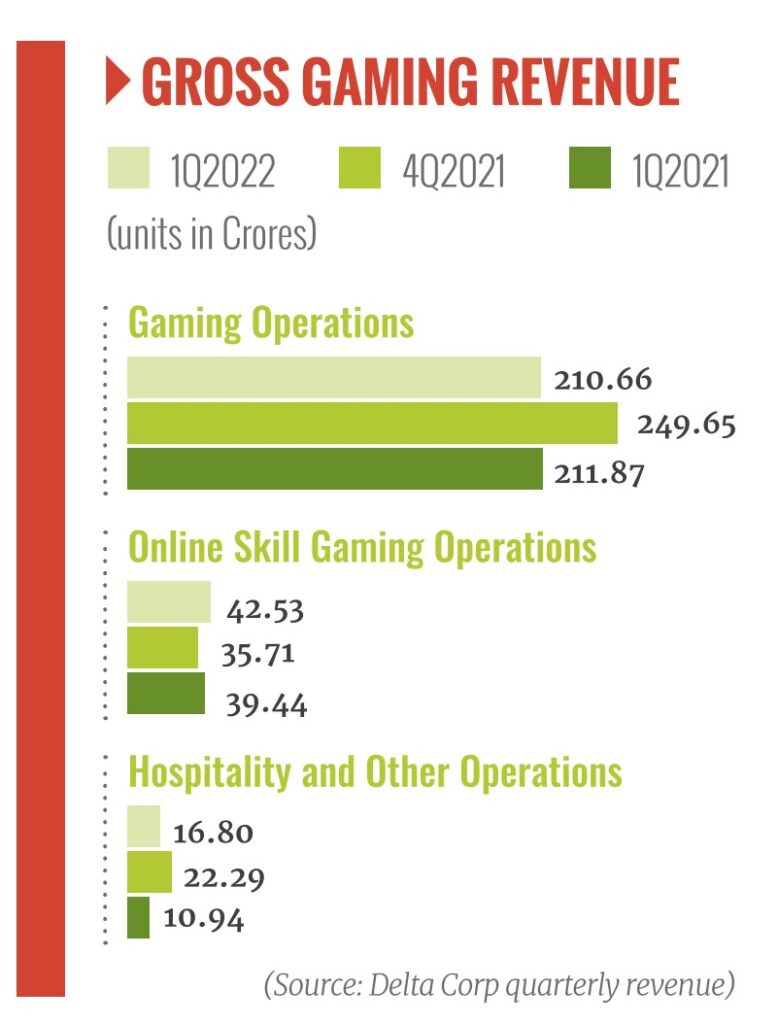 ---
Delta FY4Q profit hit by Omicron restrictions
Delta Corp., India's largest casino operator, posted a 17 percent decline in fiscal 4Q22 profit due to the impact of the Omicron variant on visitation.
The company reported net profit of 48.11 crore in the three months to end-March. Revenue from gaming operations during the period edged slightly lower to 210.66 crore from 211.87 crore, while revenue from the group's online operations rose nearly 8 percent from the same period a year earlier to 42.53 crore, while the online operations were also up sequentially from 35.71 crore in the prior quarter.
Delta, which operates floating casinos in Goa, a casino in Sikkim and Nepal and a hotel in Daman, also said it would pay a dividend of 1.25 per share. The casino operations were allowed to operate at 100 percent capacity in Goa from 7th March 2022 and in Sikkim from 11th February 2022. The casino in Nepal is also operating without any restrictions as of 28th February, 2022.
---
Goa casino commissioner rules are finally ready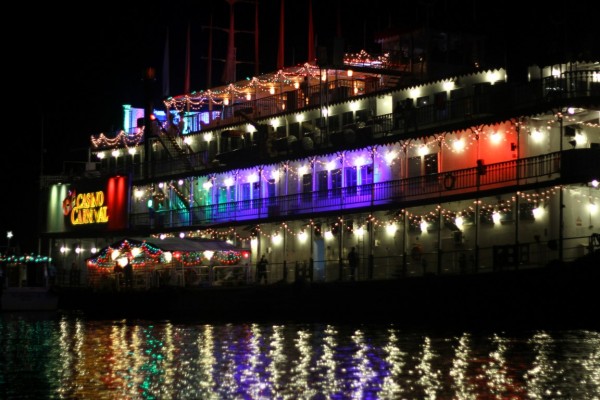 Goa has finalized rules that will streamline and regulate casinos in the state and set out the powers of the casino commissioner. The regulations have been forwarded to Chief Minister Pramod Sawant for final approval, according to local media reports.
The government appointed the commissioner of commercial taxes as gaming commissioner in 2019, but the rules setting out his mandate were not drawn up. The commissioner will exercise overall control over all games conducted in the casinos and keep records.