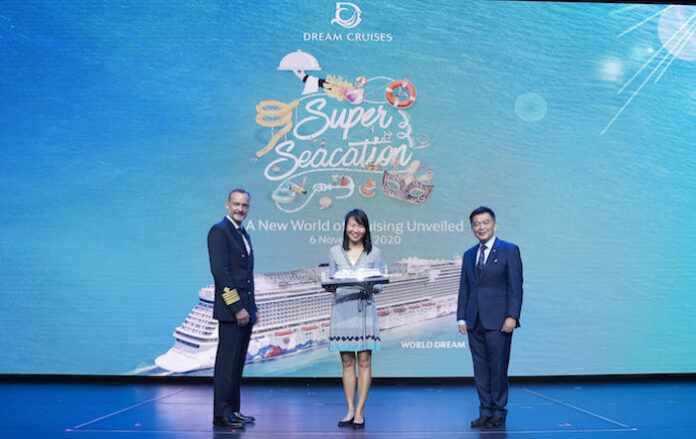 In a rare glimmer of good news for the cruise industry, Genting Dream Cruises officially resumed sailing on Friday, with a trip to nowhere out of Singapore.
The group's mega ship World Dream made its inaugural trip from the port, operating at 50 percent capacity with about 1,400 people.
The safety precautions that were needed ahead of and during the cruise are stringent. 
Genting Cruise Lines said it has completely re-examined and enhanced all of its health, hygiene and operating protocols including thorough sanitization and disinfection and enhanced hygiene practices for guest cabins and crew member quarters, public areas and recreational facilities.
It is also ensuring social distancing in dining, entertainment and public areas; safe food and beverage handling procedures; and, 100 percent fresh air ventilation in staterooms and public areas. 
A state of the art medical facility, including a Polymerase Chain Reaction (PCR) machine, will bring cutting edge COVID-19 laboratory testing technology directly onto World Dream and provide even more assurance to guests and crew, it said. Additionally, all guests will be required to pass a COVID-19 Antigen Rapid Test before being allowed to board the ship and all guests age seven and above will be required to carry their MICE Pod token, as mandated by the Ministry of Health, to monitor social distancing while on board.
While the measures are extensive, there is plenty at stake. Genting cannot afford a Covid-19 scandal on board, or risk having its ships run into port yet again. 
The suspension of sailings hit Genting Hong Kong hard. In August, it announced it was suspending payments to creditors to conserve cash to run the business. It was also seeking additional financing, though given the impact of the pandemic on the business said that a successful outcome was not certain.
As of 31 July 2020, the outstanding financial indebtedness of the group stood at US$3.37 billion and two of its units in August failed to pay bank fees, resulting in a default.
It will be slow steps before the cruise industry makes a full recovery, especially given the terrible publicity at the beginning of the crisis, with passengers left stranded at sea due to Covid cases on board. However, the company has said demand appears to be intact. It told CNBC television that inquiries have been coming in "non-stop" about the Singapore cruise. Genting also began a similar program out of Taiwan in July.