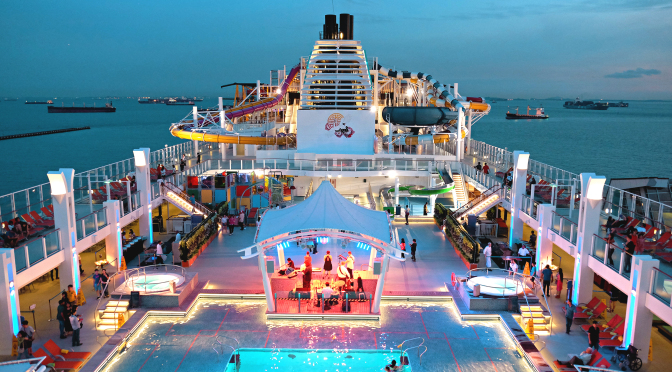 Genting Hong Kong said the government's latest directives to restrict the spread of the Omicron variant had forced the cancellation of its cruises to nowhere, while a Royal Caribbean ship already at sea was forced to return to port due to a close contact with an infected person.
Hong Kong on Wednesday announced strict new measures after community clusters of the variant were discovered. They include shutting all bars and restaurants from 6 pm, banning the public from races at the Hong Kong Jockey Club and stopping flights from 15 countries for two weeks.
The cruise ships were also told they will not be able to sail. Genting's Dream Cruises said the ruling will affect all planned sailings by its Genting Dream vessel up to at least January 21st. The three-day, two-night Super Seacation cruises were scheduled to depart on Jan. 5th, 7th, 14th, 16th and 19th.
Dream Cruises said that the cancellations are due to government policy and not due to any infections aboard the ship. Affected passengers will be offered compensation packages.
Royal Caribbean will also be forced to stop sailings out of Hong Kong, while its Spectrum of the Seas was forced to cut short a trip to return for compulsory testing after nine passengers were identified as close contacts with one of Hong Kong's cases. So far the tests have proved negative.
The cancellations will be a further blow for the cruise lines, which have been brought to their knees by the pandemic restrictions. The cruises to nowhere offered some revenue potential while international borders remain closed.
Genting Hong Kong last week has warned it may face a liquidity crunch after one of its creditors failed to provide funding under a backstop facility.
The company entered into two backstop facilities, worth $118 million, in June last year with the German State of Mecklenburg Vorpommern (State MV). The facilities were designed to help the group meet working capital requirements, or to service debt obligations, should an agreed minimum liquidity threshold be breached, or be forecast to be breached.