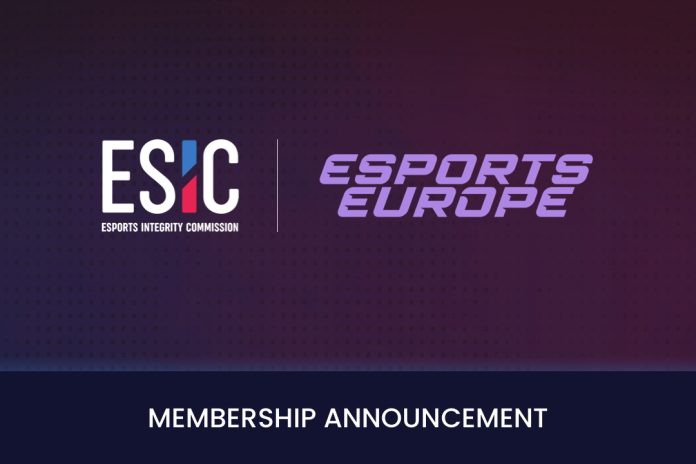 The European Esports Federation (EEF) has become a member of the Esports Integrity Commission (ESIC). EEF guarantees that it will follow the ESIC codes and ensures that all future competitions to be organized or licensed by the EEF will comply with ESIC's anti-corruption and anti-doping codes, with the players and managers being required to abide by ESIC's code of conduct.
"This collaboration will give us a chance to further develop the regulations of the competitions which benefits both the national federations and its players. It's a step towards strengthening the esports ecosystem and increasing the professionalism and competitive integrity of the upcoming European Championships", says Tiago Fernandes, President of the European Esports Federation.
This foresees fair and transparent competitions, where integrity and fair competition is ubiquitous, as well as true sportsmanship. A pivotal point in the development of the Esports industry is the protection of the community and its supporters. Esports world should be striving to create a save and fair environment where diversity is cherished, and everyone has a chance because we are here to distribute to them. Esports is more than just business and organization, it is a way of life.
Stephen Hanna, Director of Global Strategy and Partnerships at the Esports Integrity Commission said: "We are delighted to welcome the European Esports Federation as a federation member of the Esports Integrity Commission. This collaboration not only strengthens our joint commitment to promoting transparency, fair play, and competitive integrity across the global esports industry. By adhering to the ESIC Integrity Program and implementing our anti-corruption and anti-doping measures, the EEF showcases its dedication to maintaining the highest standards of integrity in esports. We are looking forward to working together to create a safer and fairer environment for all stakeholders and to foster the growth and success of esports in Europe and beyond."