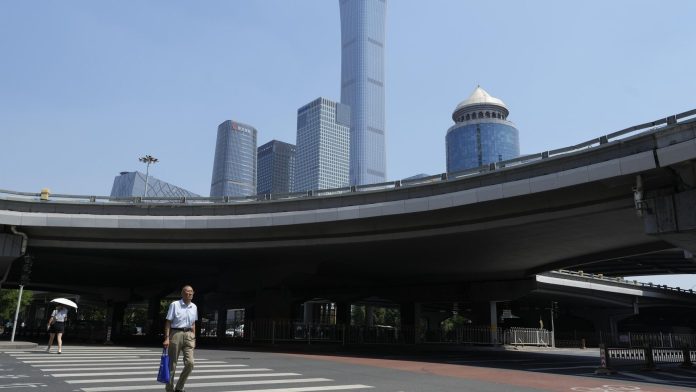 Rating agency Fitch is expecting China's economy to grow 5.6 percent this year, remaining above the 2023 government target of 5 percent. However, the agency notes, "recent data point to a swiftly fading rebound in China from the reopening at the end of 2022".
Fitch believes that China's GDP growth is mainly driven by consumption normalization, and policy support buttresses infrastructure investment. For 2024 and 2025, China's GDP is expected to grow 4.8 percent and 4.7 percent, keeping on a slowing trajectory.
On Tuesday's note, Fitch points out that China's real GDP growth in 2Q23 was below expectation at 6.3 percent y-o-y, after the unexpectedly strong 4.5 percent expansion in 1Q23.
Meanwhile, Fitch considers that "it remains unclear how effective looser credit conditions will be in stoking activity in the near term, especially if consumer and business confidence remain subdued."
"Our base case assumes the authorities will avoid a large credit stimulus, as significant increases in leverage could weigh on the sovereign's credit profile and add to systemic financial risk. However, more modest stimulus moves may struggle to gain traction and to boost business and consumer sentiment."
Macau's economy has historically been dependent on mainland China and following the removal of travel restrictions between the regions, Macau's economy has leapt back.
According to the latest statistical data, Macau recorded casino gross gaming revenue (GGR) of MOP15.21 billion ($1.88 billion) in June, down 2.3 percent from MOP15.57 billion in May.  This was the first month the city reported GGR dropping month-to-month since all travel restrictions were removed.
At the same time, Macau's tourism in the first half-year recovered to 59.6 percent of the daily average in 2019, with inbound tourists from January to June exceeding 11.64 million, which amounts to a daily average of more than 64,000.
The Macau Economic Association (MEA) expects Macau's GDP to grow 100 percent or more in the second half of 2023, while the group estimates that Macau's GDP will increase by 70 percent y-o-y in the first half.