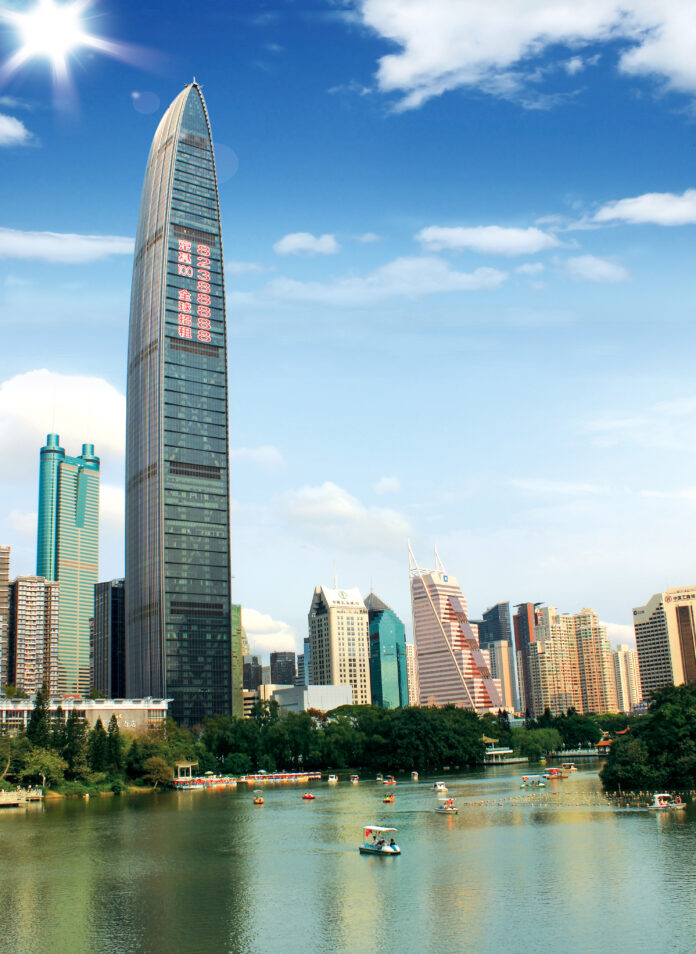 As Macau and China step up cooperation in the Greater Bay Area, the territory's operators are paying heed and turning their attention to opportunities on the Chinese Mainland.
The island of Hengqin, which has long been touted as key for transforming Macau into a mass-market tourism destination by providing the space for development is in particular focus.
Hengqin is connected to the Cotai Strip via the Lotus Bridge and is roughly three times the size of Macau, with a population of about 53,000. There has been talk for decades of greater integration between the two to help drive development of non-gaming amenities.
However, progress has been slow, partially due to reluctance among Macau citizens to be engulfed by the Mainland. Covid may have helped to soften attitudes.
"I feel that the COVID pandemic has reinforced Macau businesses' realization that Macau is heavily reliant on the Chinese market for visitors and other supplies, including human resources, although some Macau residents are still resistant to this fact," says Desmond Lam, professor in integrated resort and tourism management at the University of Macau.
"There is already a certain level of social and business integration between Macau and its neighboring Chinese cities. Economic diversity is not just a priority for the Macau government, it is a necessity to ensure continued prosperity for Macau; and so is integration (at all levels) within GBA."
According to Matthew Ossolinski, CEO of GW Investment Consulting, some of Macau's big six operators are taking another look at opportunities on the island, partly with a view to the upcoming concession renewal process.
Land on the island would allow them to expand non-gaming offerings, which some analysts have speculated may be stipulated as a condition in the license tenders.
Sands China has already set up back office operations and others are in the process of doing so, while they are also actively seeking out tourism development projects to brand and invest in. Galaxy Entertainment already has a 2.7 sq. km parcel of land on the island, on which it says it plans to develop a "world class, lifestyle leisure resort."
In its 2020 annual report, the operator said it had been encouraged by greater ties between the two locations and was continuing its planning for the project.
"Hengqin is effectively Macau's expansion zone," said Ossolinski, whose firm provides advisory and business brokering services to integrated resort operators and institutional investors on Hengqin Island. "The vision has been explicit and unwavering for 20 years: to develop Macau into a 'world centre for tourism and leisure'. Hengqin provides the space and accommodative policy needed to achieve that."
While Macau, Hengqin and the Greater Bay Area initiative are often spoken about as one project, the Macau-Hengqin tourism zone will be its own unique and distinctive market within the Greater Bay, he argues.
It's "an aspiring world-class tourism cluster–by revenues the world's largest–and home to China's Nasdaq with a Macau label on it," he says. "It's like a Las Vegas merging with an Orlando–except with a casino monopoly on 1.4 billion enthusiastic gamblers."
Macau's tourism industry was brought to its knees by the pandemic and its economy was one of the worst-performing in the world as a result. Eighteen months into the crisis, visitation is nowhere near back to normal and gross gambling revenue for June is forecast to be down some 70 percent from its 2019 levels for the month.
It's been a different story on Hengqin, which is not subject to border restrictions and has benefited from China's domestic travel boom.
Elsewhere in the Greater Bay Area, Melco Resorts & Entertainment's parent Melco International has announced plans for a RMB4 billion ($616 million) entertainment complex in Zhongshan, China, in a move seen as likely to benefit its chances of concession renewal.
The company has teamed with Chinese property developer, Agile Group, on a premium residential, entertainment and hospitality mixed-use complex. The city is a key hub in the Greater Bay Area and has good connections with Macau, Zhuhai, Guangzhou, Shenzhen and Hong Kong.
Ben Lee, managing partner of iGamiX Management & Consulting said it's a "very clever" move on Melco's part.
"They bypass the usual Macau conundrum of lack of land, labour and government efficiency and have gone straight to the heart. Developing non-gaming diversification in an environment and market which will support that kind of investment," he said. "They  obviously believe that you don't have to necessarily invest in Macau to win the attention of the true decision-makers."
MGM China has also been stepping up activity on the Mainland through its joint venture with China's Diaoyutai State Guesthouse. The companies have recently announced plans to develop several hotels in Guangdong, including in the cities of Shenzhen and Zhuhai.
---
Macau 2025 GGR seen 25% higher than 2019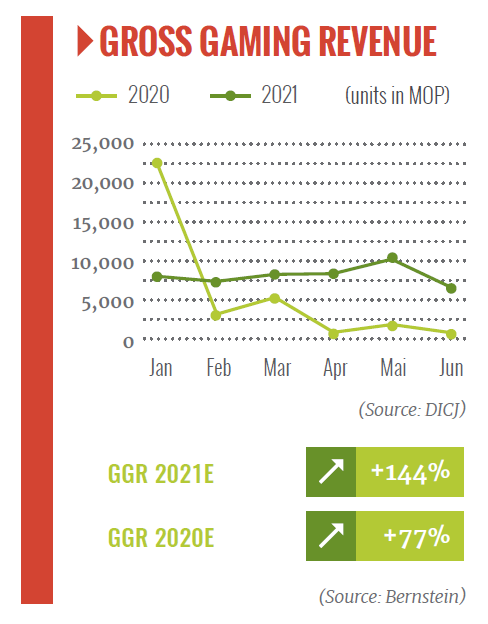 Macau's recovery has been slower than expected this year, though analysts at Bernstein still predict a bright future, forecasting the market will be 25 percent higher than it was in 2019 by 2025. 
They argue that the long-term structural story for the market, driven by mass and premium mass gaming remains intact.
In a note on Sands China and Las Vegas Sands, the analysts said they expect GGR in 2022 to reach 89 percent of pre-pandemic levels and then to see growth of more than 11 percent through to 2025. They said they expect the mass market to be 50 percent higher than it was in 2019.
Beyond that date, the analysts said further growth will depend on project development in Macau.
Bernstein has an "outperform" rating at both Sands China and its parent company Las Vegas Sands. The firm expects Sands to retain its leading market share of Macau's mass market and non-gaming revenue.
The operator has five properties in Macau and the largest room count, giving it an advantage in the mass market sector. It also has a highly differentiated product offering, with its retail business contributing 12 percent of profit. The company's mass tables and slots business make up 65 percent of profit, hotels 14 percent and lower-margin VIP just 7 percent.
Bernstein notes that Sands has the highest exposure to the mass market of all the operators at 74 percent of GGR compared with the market average of 61 percent.
"We forecast Sands to further expand mass GGR contribution to 85 percent of its GGR by 2025 and maintain its market leadership position among all six operators," it said.