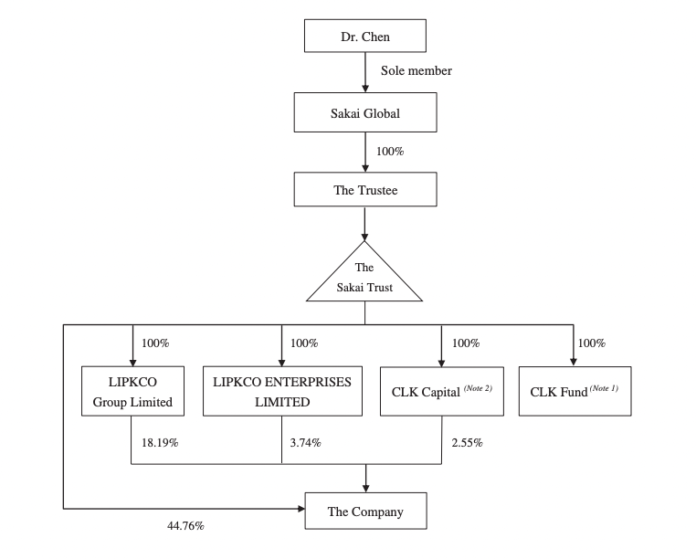 Hong Kong-listed NagaCorp said its founder ​​Dr. Chen Lip Keong has simplified the shareholding structure of his stake in the group for succession planning purposes.
Chen owns 69.23 in the operator of Cambodia's NagaWorld, directly and indirectly, through a series of foundations and holding companies. He has now consolidated these holdings by transferring them to the Trustee of the Sakai Trust.
The Sakai Trust is a family trust established by Chen as settlor for the purposes of succession planning. The Trustee is entrusted with legal title to the trust assets for the benefit of Dr. Chen and his five sons, who are all directors of Sakai Global, the sole shareholder of the Trustee.
Immediately after the share transfers, the Trustee directly holds 44.76 percent of the total shares in issue and indirectly holds 24.47 percent through three of its wholly-owned subsidiaries, CLK Capital, LIPKCO Group Limited and LIPKCO ENTERPRISES LIMITED.
The company said in theory the transfer should have triggered a mandatory offer for all minority shareholders, as it involved more than 30 percent of the group. However, Chen was awarded a waiver by the stock exchange.
In April this year, the company announced a shake up in its leadership future as the 74-year old Chen, who holds the CEO and executive director role, begins to plan for an eventual handover.
Under the re-designation, Chen moved to the position of senior chief executive officer, while four of his sons will take up joint CEO positions responsible for various aspects of the business.
NagaCorp noted that Dr. Chen will continue to lead the Group and "remains actively, strongly and firmly in grip" to lead the group and provide direction and strategy, as well as oversee day-to-day operations of the group.