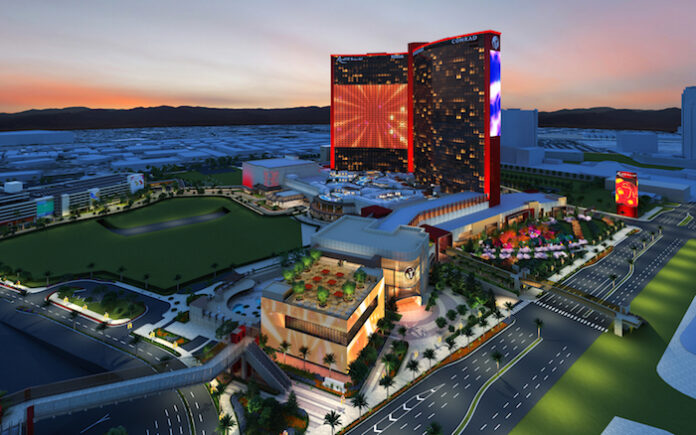 Genting is gearing up for one of the world's biggest openings this year, with the $4.3 billion Resorts World Las Vegas, though in the short-term at least analysts are more bullish about the company's prospects at home.
The property is scheduled to open some time this summer and the company claims it will be the first "truly groundbreaking" resort in Las Vegas in a decade.
It will have 3,500 rooms distributed across three premium Hilton brands. The casino will have 117,000 square feet of gaming space, with some 250 tables and 3,250 gaming machines, as well as state of the art technology and nightlife concepts, such as Singapore's Zouk Club.
Resorts World Las Vegas will also have the distinction of being the most expensive property so far built in the city. And that hefty price tag carries implications for the group's return on investment, with the operating environment having changed significantly from when the group germinated the idea.
Genting bought the land in 2013 from Boyd Gaming, which had demolished the Stardust Resort that stood on the site to develop its own casino complex. 
The Asia-themed IR, which was held up due to a dispute with Wynn Resorts over design, was designed to pull in Asia's premium players as well as to provide a new point of reference for the Strip. Since then, the fortunes of Las Vegas have changed with the pandemic crushing destinations reliant on incoming visitation, while the return of Asia's VIP market is a subject of intense debate.
"The property is opening at a time when it'll face similar operating pressures as other Strip operators – lower visitation and limited group activity," Fitch Ratings analysts told Asia Gaming Brief. "Our current rating case expects RWLV to break even by end 2022 and reach its fully-ramped up EBITDA by end-2024. The property being the newest in Las Vegas could help to accelerate ramp-up but there is significant downside in the event of slower than expected recovery in inbound visits, which could delay our expectation by 1-2 years."
Nomura analysts expect the property to be a drag on net profit for the initial few years with the high start up costs resulting in losses to the bottom line. However, based on an analysis of other venues in the area, it does expect the resort to begin contributing from next year. 
Nomura expects revenue of $350 million next year on EBITDA of $82 million, while that figure is expected to rise to $477 million in 2023 for revenue and $112 million for EBITDA.
It will also be an interesting test for the old adage "if you build it, they will come." Some industry observers say the concept still carries weight.
"Historically, new properties on the Las Vegas Strip have always driven incremental visitation.  This will be no different," says Josh Swissman, founding partner of Las Vegas-based, The Strategy Organization. "The timing of the opening is actually well suited to existing trends and sentiment around Covid-19.  Currently, Las Vegas is enjoying a boost in visitation with additional desire to travel anticipated for the second half of this year (and beyond). That bodes well for Resorts World Las Vegas across multiple customer segments."
Swissman also points to various unique selling points that will help Genting draw in the crowds.
"First its design, architecture and amenities are drawn from different influences than those typically seen on the Las Vegas Strip," he said. "Additionally, I think the partnerships that they have struck with Hilton Corporation, AEG Presents and others will draw from those companies' preexisting fan bases. What's more, the entertainment offerings that have been announced will be a draw."
Katy Perry and Celine Dion have been announced as residency acts.
The sprawling Genting Group is one of the world's largest casino companies, owning properties in the U.S., Singapore, U.K., Bahamas and Egypt through its various subsidiaries. It also owns Resorts World Manila through its Travellers International Group venture with Alliance Global.
In normal times the level of diversity should help Genting weather individual market storms and spread its risk. However, at present most of its international markets are suffering from the Covid crisis and analysts are most bullish about its prospects at home.
TA Securities says Genting Malaysia's 2020 loss came in below its expectations as the local VIP market supported revenues. The casino was permitted to reopen in March last year, though was forced to shut its doors again this year due to a resurgence in cases in Malaysia. 
The note from the research house is titled "Raise Your Bets on Post Pandemic Recovery" and points in particular to the upcoming opening of the company's long-delayed outdoor theme park as being a key catalyst for further growth. 
Nomura agrees: "We reiterate Buy on GENM, as we believe investors will overlook near-term bumpy earnings, and are looking through to FY22F prospects, which look promising for Malaysia with the Skyworlds theme park scheduled to open, vaccines expected to be widely available by end-2021 in Malaysia, the UK and the US (key markets), and start of some inbound tourism."