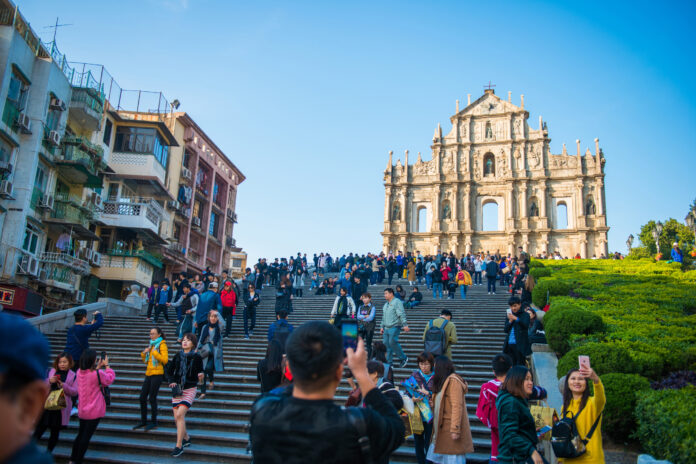 Macau's narrow economic base and its high concentration of tourists from China restrain the city's credit rating and have contributed to historically high levels of gross domestic product volatility, Fitch Ratings says.
The agency has raised its outlook on Macau from negative to stable, due to its strong public and external finances and expected economic recovery this year.
However, it notes that it's vulnerable to any Mainland policy changes in China's treatment of gaming tourism. This over reliance on China also made the coronavirus shock worse for Macau than its peers.
Fitch expects the Macau economy to rebound by 53 percent this year following an unprecedented economic contraction of 56.3 percent in 2020.
Despite that impressive recovery forecast, Fitch's expectations are for gross gambling revenue to only reach 50 percent of its pre-pandemic level this year, with the recovery likely from the second half.
"Uncertainty regarding Macau's recovery trajectory remains elevated," it wrote. "Sustained recovery in 2021 and beyond will hinge of steady progress in virus containment, effective vaccine distribution and China's evolving policies towards cross border travel and gaming."
China has stepped up its rhetoric in recent weeks against countries with casinos that are targeting its nationals for gambling. Beijing is trying to stem vast capital outflows across its borders.
It estimates that 1 trillion yuan (US$155 billion) leaves the country every year because of overseas gambling.
Last year, it drew up a black list of jurisdictions that it believes are targeting Chinese for gambling and further expanded that list early this year. Although it has not been officially published it was widely believed to be referring to countries such as the Philippines, Cambodia, Vietnam and Korea.
Macau, as a special administrative region of China, is thought to be safe. However, the ongoing rhetoric coming from Beijing is adding to the uncertainty and harming the high rollers in particular.
"The VIP segment will remain sensitive to changing economic and regulatory conditions in the mainland."
Fitch, which gives Macau an issuer default rating of AA, says it believes greater integration with the Greater Bay Area in the future will help Macau to diversify its economy.
"However, it may also lead to a gradual convergence of governance standards with the lower-rated mainland," it said.