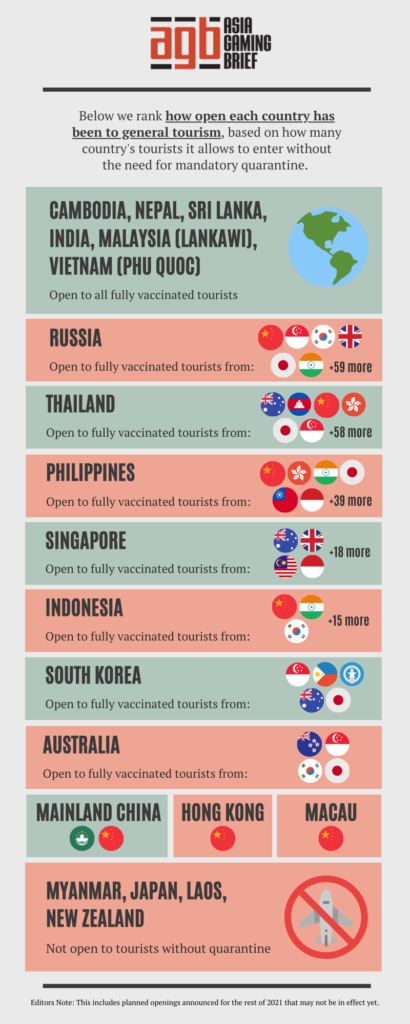 Last Tuesday's infographic by Asia Gaming Brief illustrated data showing that Asia travel has continued to be challenged in the first seven months of 2021, leading to a 95 percent fall in inbound international tourists to Asian destinations compared to the same period in 2019.
Though the Asian region had initially lagged in vaccinations and tourist border openings, there are quite a few openings already in place and more to come before the end of 2021. In this week's infographic, we look at how open Asia's borders will be before the end of the year. We rank each of Asia's key gaming and tourist destinations by the number of countries' tourists they have or will allow entry in without quarantine as announced by each country's government. 
Interestingly, we find that three major destinations in North Asia, and three tourist hotspots in Southeast Asia have already opened their borders to international tourists without the need for quarantine. However, we note that Malaysia, home to Genting Malaysia's integrated resorts, and Vietnam, home to Hoiana, Corona Resort and Casino, Grand Ho Tram, and others, require tourists to enter through specific borders in order to avoid serving hotel quarantine rather than opening up the whole country, though, in Malaysia's case, the country will be further launching a travel bubble with Singapore on November 29.
Meanwhile, Russia and Thailand have opened up their borders to most of the world's tourists, with some exceptions. In Thailand's case, the tourism industry made up for around 21.9 percent of the nation's GDP in pre-pandemic times, showing how important it is for this industry to kick start again.
Singapore, home to Marina Bay Sands and Resorts World Sentosa, has been securing more travel bubbles with foreign nations in recent weeks – with 14 countries currently allowed to travel to Singapore without quarantine. By the end of 2021, this is set to increase to 22 nations.
On Friday, the Philippines announced it would be opening its tourist borders to 44 countries, though the final decision will be made by the government's Covid task force.
South Korea has also begun emerging from its tight border closures, allowing tourists from 5 countries including Australia, Singapore and Japan. Australia is in a similar boat, with four countries on the quarantine-free travel list, with Japan and Korea just recently added.
Mainland China, Macau, Hong Kong, Japan, and a few other countries in Southeast Asia however, have for the moment, continued with their tough tourism border restrictions, though there have been movements to ease these rules, namely in Japan and Myanmar.