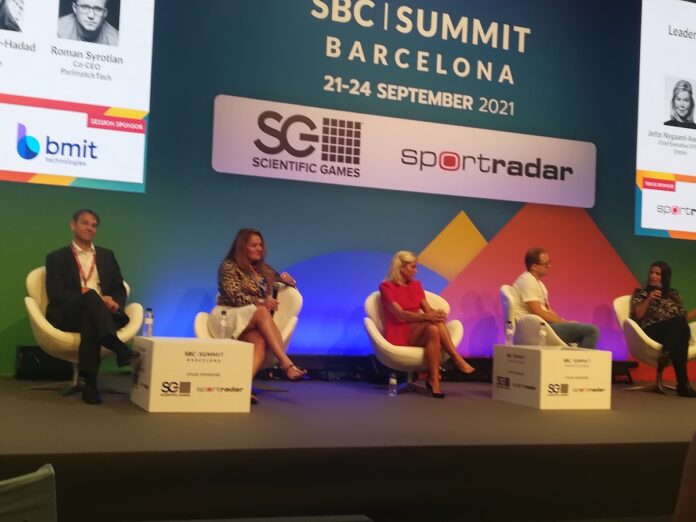 New technologies are driving convergence between media, entertainment and online gaming and the Covid lockdowns may have accelerated this trend.
The gaming industry is attracting a more recreational and casual audience of players, which creates enormous opportunities, according to speakers at the SBC Summit in Barcelona.
The two-day event attracted about 100 exhibitors and about 2,000 attendees. The conference program had a strong focus on innovation and how external forces are shaping new product development. It also explored how data and A.I. will be key in developing the hyper personalised offering that the consumer of the future will demand.
The opening address was given by Entain CEO Jette Nygaard-Andersen, whose appearance came as news broke that her company was the subject of a $20 billion takeover bid from DraftKings.
She quipped that she was the "woman of the hour," but otherwise gave no comment on the offer.
However, the size of the bid, which was double that of an approach earlier this year from MGM Resorts, provided clear weight to her words on the market potential.
"The industry is in growth mode, but we are only just getting started," she said.
As markets open through regulation, what is currently a $40 billion addressable market could "easily reach $160 billion."
"I see parallels between our business and other disruptive technologies, such as Facebook and Netflix," she said.
Netflix came up more than once during the event as being the gold standard in the way it uses and analyses data and viewing patterns to push new content to the viewer.
"The industry is moving to a Netflix type of experience and which company will be the one that manages to create a hyper personalised experience by using AI will be the one that comes out on top," said Felippo Ferri, Chief Commercial Officer of Maxima Compliance.
Speakers said this personalised product offering was becoming increasingly important especially for the younger generation.
"The use of data is a potential field for innovation, it's something that the younger generation is demanding," said Shelly Suter-Hadad, CEO of Casumo. 
As the world's of gaming and entertainment converge, the use of the media to engage with players is also becoming increasingly important.
Entain's Nygaard-Andersen said the company has found that sports bettors were three times more likely to interact with media. In Australia, the company develops videos of horse tracks and stables to drive excitement and player engagement. While in the U.K., it has a broader client base and has partnered with U.K. broadcaster ITV to develop a series of sports programs. 
This trend has been gaining momentum in the U.S. as more states open up to sports and online betting. In July, for example Gannett, the publisher of titles including USA Today teamed with German sports betting provider Tipico Group to provide content across the group's titles. It was just one of the myriad of deals that have been announced so far this year as sports betting companies seek to attract and retain players.
Executives at the conference were also asked to give their views on what has changed post-Covid as far as their operational structures are concerned.
Most agreed that they were allowing for a hybrid working model now offices are reopening and that working from home had not affected productivity. However, views were mixed on the impact on innovation.
Alexander Martin, CEO of SKS365 said the company had found that productivity had gone up and that loyalty was high. The company is currently working on what the future model for its employees will look like, which is likely to depend on the role within the organization.
"Innovation is still happening. You need to trust people in the organization," he said.
Nygaard-Andersen said Entain is a hybrid company, "but in my personal opinion we are lacking that innovation when people are in the same room. The interaction between people is lost when you work on teams."