Las Vegas Sands (LVS) will kick off the 2Q22 earnings season for Macau-linked operators on Wednesday, with the consensus forecast being for the operator to post a loss of $0.29 per share, narrowing slightly from a loss of $0.25 in the same period a year ago.
According to Thompson Reuters revenue is likely to be around $1.05 billion, compared with $1.17 billion the prior year as a recovery in Singapore fails to offset the dismal performance in Macau. The firm points out that the group's 1Q22 results were a major negative surprise, falling some 66.6 percent below consensus forecasts. It has missed analysts' forecasts in three out of the past four earnings reports. 
Unlike its rival U.S. operators in Macau, LVS no longer has the benefit of U.S. operations, where revenue has surged to above pre-Covid levels, to cushion its bottom line. The company announced it was selling its Las Vegas operations in March last year for $6.25 billion to explore other opportunities, in particular in Asia.
The company owns Hong Kong-listed Sands China, which has the largest footprint in Macau, and owns the iconic Marina Bay Sands in Singapore. It has been slower than its peers in moving into the online gaming space, due to well-documented opposition from founder Sheldon Adelson, who died at the beginning of last year.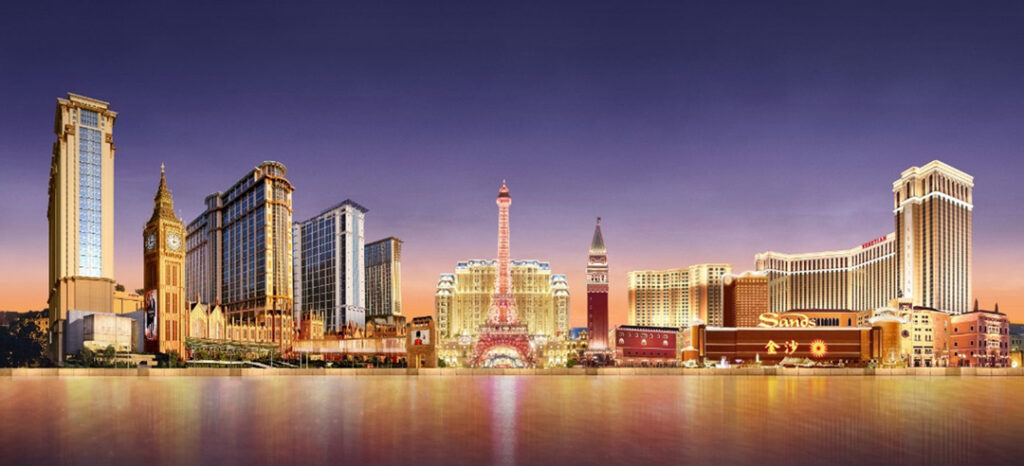 It announced its plans for online gambling in July. Unlike most others however, it says it's focusing on the business-to-business space in online gambling and has formed a team to invest in gaming technologies. It says it's looking for strategic investments that will provide a long-term benefit for shareholders.
Analysts at Deutsche Bank said they expect very little in the way of new news to come out of LVS's earnings announcement, which is scheduled for after the market close.
The Macau operations continue to limp along under the government's strict zero-Covid policies, which have seen the city's casinos close again this month for the second time in two and a half years.
Analysts at Bernstein have forecast that Macau's gross gambling revenue will be 98 percent below 2019 levels in July and will potentially recover to 90 percent below in August.
Deutsche Bank said investors will be focusing on the ramp up in Singapore, which it says could be a likely template for the trajectory in Macau once restrictions are lifted.
Speaking on a 1Q22 analysts call, CEO Rob Goldstein said he thought MBS could achieve a $1 billion EBITDA run rate this year. He said all segments of the business were returning to normal.
Investors are also likely to want to hear about capital plans and expansion at the Singapore resort. It has embarked on a S$4.5 billion investment plan to expand non-gaming attractions in return for an expansion in the gaming floor and gaming machines.
Separate from the broader expansion, Marina Bay Sands is pushing ahead with a $1 billion revamp of its hotel, which will upgrade all rooms and suites, with the work to be completed this year and next.
Deutsche Bank is also expecting investors to focus on cash burn rates in Macau and any comment from management regarding the new Macau Gaming Law, which it says is largely favorable for the operators.
Morgan Stanley is expecting LVS' Sands China unit to post negative property EBITDA of $131 million for the second quarter, widening from a loss of $11 million in the first. For the year as a whole, the firm sees a corporate EBITDA loss of $172 million, with only Galaxy Entertainment forecast to end the year in the black.
However, it has an overweight rating on the stock due to its size and the ramping up of its Londoner property, which was a revamp of Sands Cotai Central.
"Sands also has the highest exposure to the base mass and slot segment, which would be a key beneficiary post-Covid and prove to be the most resilient amidst China's regulatory reset," it said.
The firm expects Sands to recover its market share once industry volumes pick up due to the size of its footprint in Macau.