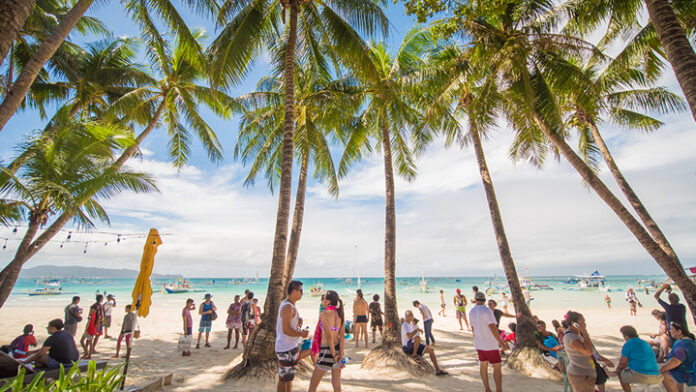 Some of Asia's main tourism destinations have seen a strong pick up in international visitors this year, although it will be a long road before they reach pre-pandemic levels, with road bumps along the way.
Malaysia has recorded one of the best bounce backs, helped by its weak currency, which has been trading near a two-year low. This has made it a cheaper destination for some of its neighbors.
By mid-June the country had already passed its target for this year of attracting 2 million tourists and has now upped that goal to 4.5 million.
Tourism, Arts and Culture Minister Datuk Seri Nancy Chukri said that target will be revisited again in September and she's optimistic that it will be revised higher.
The country has seen a pick up in arrivals from India and Saudi Arabia, as well as from the Philippines and Indonesia.
The figures don't include visitors crossing Malaysia's land border from Singapore. Including those there would have been more than three million visitors in the first half, she said.
Analysts are predicting a strong second half for the country's only casino operator, Genting Malaysia, as tourism numbers rise and it benefits from the rollout of new attractions at its Resorts World Genting theme park.
Indians and Malaysians are among the top visitors to Thailand, so far this year.
Foreign tourist arrivals totaled 2.03 million between Jan. 1 and June 26, deputy government spokeswoman Traisuree Taisaranakul has said.
The country has set what it says is a conservative target for 7.5 million arrivals this year, still a fraction of the 40 million Thailand attracted in 2019. The country has one of the most tourism dependent economies in the Asia-Pacific region, generating about 12 percent of gross domestic product from the sector prior to the pandemic.
Singapore, which was one of the first countries to open its international borders, welcomed 540,430 tourists from January to April, with the number rising steadily each month. There were 296,300 in April alone, with that number surging to 418,310 in May. 
Singapore's tourism authorities expect the trend to accelerate in the second half of the year as flight connectivity improves and the island nation hosts the Formula One Grand Prix in October. 
However, it may take several years for visitor arrivals to recover to pre-pandemic levels, Minister for Trade and Industry Gan Kim Yong wrote in a written response to a parliamentary question.
The Economist Intelligence Unit has estimated it may take until 2024 for a full recovery in Asia.
Flight data analytics firm, Cirium, said Singapore inbound flight bookings rose from around 30 percent of 2019 levels in January to 48 percent by mid-June.
It said Malaysia, Thailand and Singapore were leading the tourism recovery.
The Philippines is also doing well, with inbound bookings reaching 40 percent of their 2019 levels by mid-June compared with 20 percent in January, Cirium data found.
The latest arrivals data for the country showed a total of 319,047 inbound arrivals from February 10, the day the country began accepting fully vaccinated foreign tourists, until April 25.
Department of Tourism Undersecretary Woodrow C. Maquiling, Jr, told a recent conference in Vietnam that the Philippines has achieved as much as 22.5 percent of tourism's pre-pandemic contribution to GDP. The sector was worth $92.6 billion to the economy prior to Covid.
Elsewhere, the recovery has been more patchy, especially in markets that are traditionally more reliant on either Chinese, or Russian clientele, or both. The Chinese are still effectively off the international travel map due to stringent quarantine measures on return, while Russians were grounded following the invasion of Ukraine.
Vietnam achieved tourist arrivals of 602,000 in the first half, which is still 92.9 percent below its pre-Covid levels.
However, the trend has been improving. Vietnam fully opened in March.
In June alone, Vietnam welcomed nearly 237,000 foreign arrivals, up 36.8 per cent compared to the previous month and 32.9 times that of the same period last year.
In the first four months, foreign tourists to Cambodia hit 230,000, up 180 percent from its 2021 levels, and the Ministry of Tourism there is predicting 800,000 visitors by year-end. That compares with 6.6 million welcomed in 2019.
While casinos in the Philippines, Malaysia and Singapore all have support to varying degrees from the local market, Vietnam and Cambodia are wholly reliant on tourists.
The early indications in Southeast Asia point to strong pent-up demand for travel, although there are further clouds on the horizon. Rising jet-fuel prices are pushing up the price of airfares, while global inflation and the risk of recession may hit consumer confidence.