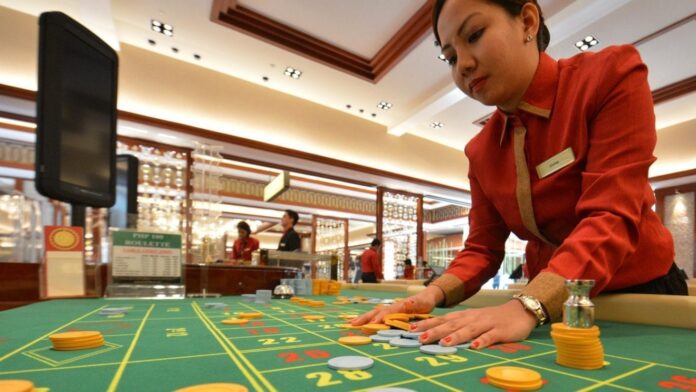 Vietnam's new decree aimed at regulating "prize-winning electronic games" is unlikely to have any significant impact on the casino and integrated resort operators in Vietnam, though it does potentially pave the path for a central gaming regulator, according to Ben Lee, managing partner of IGamix Management and Consulting.
Just before the close of 2021, the Vietnam government issued Decree No. 121/2021/ND-CP, which includes 15 prohibited acts related to prize-winning electronic games, along with rules relating to slot payouts and side betting. It is due to come into effect on February 12, 2022.
The decree defines "rewarding electronic gaming machine" as any specialized electronic device that plays pre-installed games, in which the process of playing takes place automatically between player and machine in order for them to potentially win cash prizes.
Lee said the term is likely to include not only slot machines and electronic table games, but could also include electronic lottery, video lottery, and electronic sports betting terminals – though this has yet to be clarified by the government.
However, Lee said there wasn't anything striking in the new decree that could impact the current business of casinos and integrated resorts in Vietnam, with most of the rules listed in the decree already in practice across the country's various provinces.
"There's nothing really untoward [for the gaming industry]. It's basically concreting rules and understandings that were already in place. Previously there may have been rules and regulations but they were never formalized in terms of being in the law."
One example, Lee notes, is the 90 percent minimum fixed payout ratio for slot machines. Another example, which was picked up by local news agencies, is the requirement for foreigners to present valid travel documentation when entering a casino to prove they are eligible for entry.
"They already do. I have walked into dozens of casinos and basically all the slot parlors in Ho Chi Minh. The first thing they do is ask for your passport, and the first thing they look at is your entry visa."
"Having said that, there are a very small handful of slot parlors which don't enforce that, and locals do go in. But in those parlors, there is a nod and wink understanding that they are under the protection of the local judiciary or local police. This law may be aimed at strengthening that requirement… as it is now coming from the politburo, rather than from the provincial government."
Lee also notes that in its current interpretation, the decree also does not rule out proxy betting – the act of taking bets on table games for patrons from a remote location.
"Proxy gaming is in a bit of a grey area right now. I have seen a couple of legal interpretations of that. Proxy gaming itself has not been specifically prohibited." Though Lee notes that proxy betting is not a widespread practice across Vietnam's casinos.
On the other hand, online gaming has been defined within the decree as being prohibited, he added.
When asked about the timing of the decree, Lee believes it is part of the country's move towards a centrally managed set of gaming regulations, similar to that of established gaming jurisdictions in Asia (Macau, Singapore, Philippines).
"It's something they've been moving towards starting with the first gaming decree in 2017. They are slowly but surely working their way through the maze of provincial laws and certifications towards a centrally managed one."
Whilst there has been no official announcement that a federal gaming regulator will be put in place eventually, Lee says the decree is a sign that is the direction the government will be taking.
"Once they concretize everything and they have in place a full set of gaming regulations. Yes. I expect the next step is to form a [gaming] committee, which will then itself be followed by gaming regulators, investigators, and inspectors.
"Cambodia is also on the same path. They have got the law. I believe they are almost finished setting up their committee and now they're looking at what's going to go under the committee in terms of inspection and enforcement. I suspect the same discussion is happening over in Vietnam."
Lee says the formation of a federal gaming committee could come as soon as another year from now, after which the appointment of a gaming regulator and inspectors would soon follow.