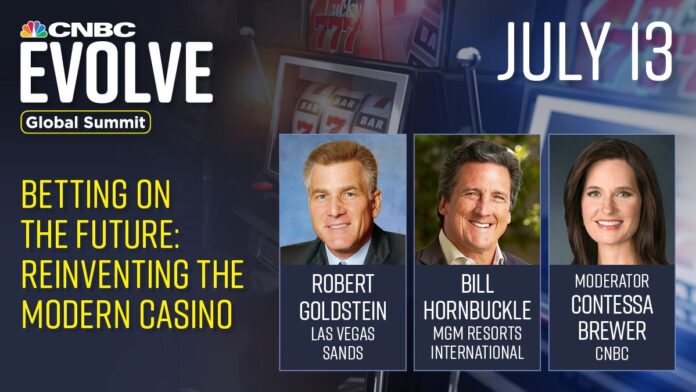 MGM Resorts CEO Bill Hornbuckle, Wynn Resorts CEO Craig Billings and Sands Chairman and CEO Robert Goldstein unanimously argued that Macau will quickly recover once the latest lockdown comes to an end. 
The three executives spoke with CNBC correspondent Contessa Brewer at the Evolve Global Summit, in a panel session titled "Betting on the Future: Reinventing the Modern Casino."
Wynn, LVS, and MGM CEOs remain optimistic that Macau will follow in the footsteps of Las Vegas with a strong recovery later in 2022. 
"Most of Asia's opening, I mean, Japan's opening, Indonesia, Malaysia, Korea, Vietnam. The market is opening. The biggest challenge there is employees and airlift getting in and out of these countries are still challenging into Singapore." Goldstein said.
Goldstein pointed out the role that government has had in the industry's recovery in Singapore: "Singapore is, you know, leading the way in terms of it's a great government, a great place to operate. We're thrilled to be there. At its peak was a $1.7 billion property. My guess is that we'll do better than that in the future."
All three executives remain positive on a potential recovery for the gaming industry in Macau.
"Macao I feel even I find it funny that people question Macao's return. Of course, it's been a hard couple of years no question. But the idea it doesn't turn is kind of hard to imagine it's going to turn probably this year or next. And when it does, Macao will go back to making – you know, we made at the peak $3.5 billion EBITDA. I think we'll make a lot more than that in the future there," Goldstein said. 
MGM CEO Hornbuckle reiterated the importance of Macau to the gaming industry. 
"Macao was seven, eight times Las Vegas in scale. I mean, okay? So it comes back half to begin with and then some and then some. I just, it's the largest gaming market in the world bar none, and it will forever be," mentioned Hornbuckle.
Billings echoed those sentiments on Macau, "you think about the importance of Macao frankly within the Greater Bay area, we're huge, huge bulls on Macao just like Rob."
All three executives believe that the avoidance of layoffs has been critical to the long-term health of their employees on the ground in Asia.