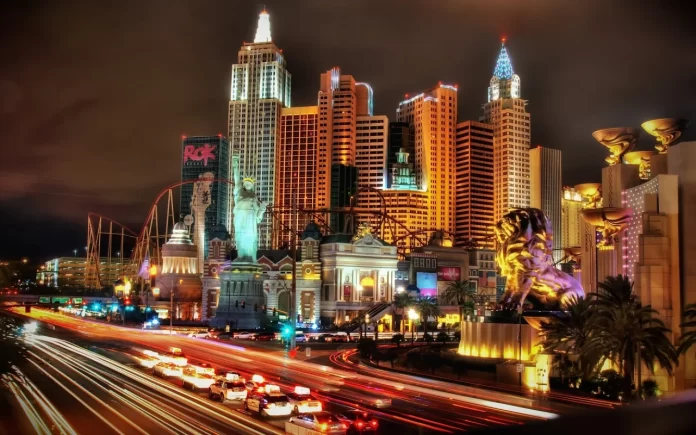 Fitch Ratings latest research paper on the North American gaming industry sounds warning bells on an anticipated drop in the revenues from Las Vegas in 2023.
"Las Vegas gaming revenues are expected to dip 10 percent in 2023 as exceptionally strong leisure demand weakens amid a broader economic slowdown," Fitch Ratings warned in its report.
Two components which are likely to affect the revenues from Las Vegas are the revenues in general and revenue per availability of room (RevPAR).
This should result in a less severe downturn, including 21 percent and 37 percent declines in revenue and RevPAR, respectively, for Las Vegas operators during the 2008-2009 global financial crisis, the report reads.
"We expect revenues to resume low single-digit percentage growth in 2024, driven by favourable secular trends such as recovering group and convention business," the Fitch report read.
Convention Catalysts
Fitch expects healthy group business demand growth in 2023, supported by a more normalized convention calendar and easy comparisons to the prior year.
Forward-booking calendars for Las Vegas Strip operators are generally healthy for next year and beyond, supported by events that were postponed during the pandemic.
Group segment demand recovery has accelerated this year after a slow start and further delays caused by omicron variant-related meeting postponements in late 2021.
Year-to-date convention attendance through May 2022 is roughly 67 percent of pre-pandemic levels, compared with 87 percent for total visitor volume.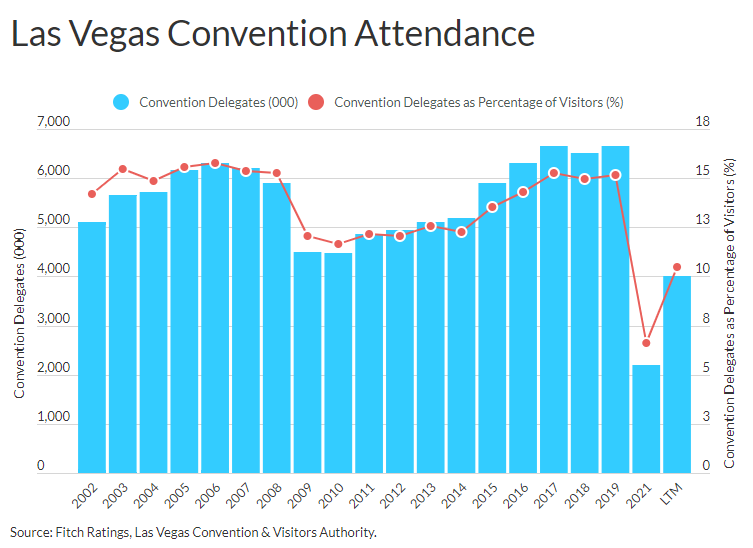 Resilience
Las Vegas is currently in a better position to weather a downturn than prior cycles given the manageable industry-wide room supply growth and significantly improved profitability as a result of pandemic cost cuts.
Las Vegas air-transit capacity, gaming revenues and RevPAR are all at or above pre-pandemic levels, despite a lagging recovery in the group and international segments, the report read.
Rooms
Aggregate room supply in Las Vegas was expected to grow by 2-4 percent through the mid-2020s, assuming the delivery of announced projects including Fountainbleu, Hard Rock, Dream Hotel, which is generally consistent with historical trends and should be supported by incremental demand,
Room inventory grew by a roughly cumulative 1 percent between 2019 and 2021, including the 3,500-room Resorts World addition.
This recovery has boosted midweek visitation and helped drive RevPAR above pre- pandemic levels by over 10 percent in tandem with strong weekend leisure demand.
Gaming Growth
Gaming revenues plummeted during 1H20 due to forced closures early in the coronavirus pandemic, but rebounded sharply within months of the restrictions being lifted in 3Q20 on the back of pent-up leisure demand, which was further aided by the early 2021 vaccine rollout.
"We expect healthy secular growth gaming revenues over the medium to long term, supported by a growing critical mass of hotel room supply, convention space and entertainment options," the report read.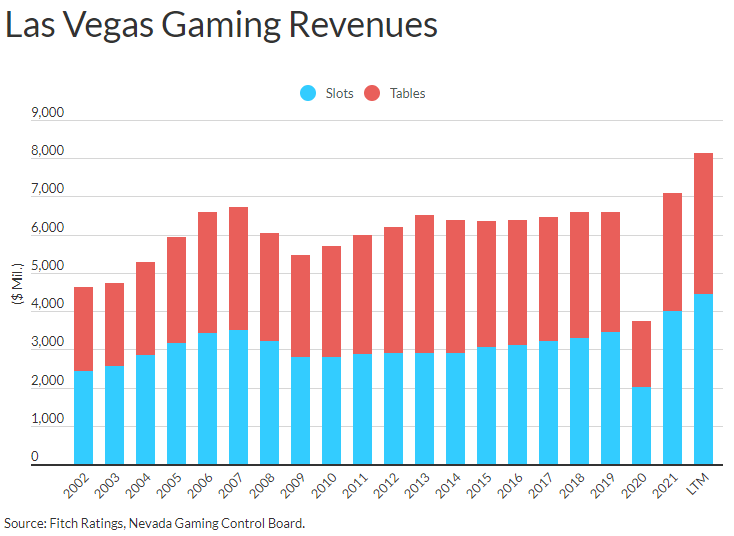 Sports
Growth in professional sports has broadened the strong base of entertainment options in Las Vegas and, amidst the warning bells, Fitch is equally bullish about the sport events to emerge as crowd puller.
With Formula 1 adding Las Vegas to its circuit for 2023 and high-profile events like the Super Bowl and NCAA March Madness scheduled in the medium term, Las Vegas is expected to pull the sports-frenzy crowd.
"The Raiders NFL franchise and related Allegiant Stadium have supported visitation, and will likely attract other major sporting events or franchises to the market," the report read.
Fizz
Most gaming operators are carrying less balance sheet leverage than prior cycles and generating strong free cash flow, the rating firm notes.
Weaker US economic growth and inflationary pressures increase the odds of a pullback in recent robust domestic leisure demand during 2H22 and through 2023.
Amidst the optimism, Fitch expects a mild resistance, a kind of more moderate downturn relative to prior gaming cycles, helped in part by still-healthy employment rates, broader resiliency in post-pandemic leisure travel, and the ongoing recovery in convention business. However, as 2023 concludes, a leisure demand pullback should be evident by drops in monthly reported gaming levels, RevPAR and non-group visitation, which may get reflected in the group event attendance which could weaken if corporations tighten spending as the economy weakens, the report emphasizes.