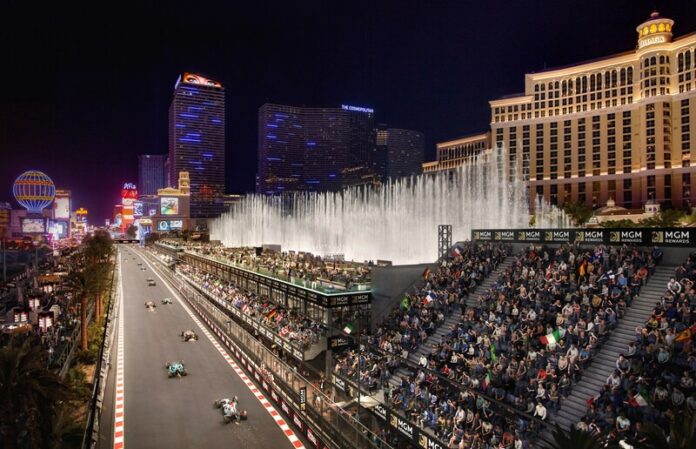 Tickets are now on sale for MGM Resorts International's luxury Bellagio Fountain Club, the Company's premier viewing experience for the FORMULA 1 HEINEKEN SILVER LAS VEGAS GRAND PRIX, November 16-18, 2023.
Perched above the Las Vegas Strip Circuit™, the exclusive BellagioFountain Club will provide unrivaled track and fountain views; meet and greets with F1 ambassadors; unlimited food & beverage by celebrated chefs, master mixologists and sommeliers; and access to the Club's private indoor and rooftop hospitality decks.
An all-star lineup of legendary chefs from MGM Resorts' portfolio, including Mario Carbone, David Chang, Michael Mina, Masaharu Morimoto, Bryan & Michael Voltaggio and Jean-Georges Vongerichten will be on hand to prepare culinary delights for Club guests.
A dedicated team of award-winning mixologists and sommeliers will curate an open bar of signature cocktails and specialty wines throughout the race. Chefs will rotate throughout the three days, introducing new menus daily that progress throughout the night.
The BellagioFountain Club will open nightly beginning at 6 p.m. November 16-18.
"The BellagioFountain Club will marry the epic F1 experience with MGM Resorts' unbelievable talents and iconic destinations, ultimately creating an exclusive and legendary race day experience right atop the resort's Fountains," said Steve Zanella, MGM Resorts' Chief Commercial Officer. "This is just the beginning for F1 fans coming to Vegas. No one throws a party like our city, and we're primed to make the Formula 1 Las Vegas Grand Prix the world's most sought-after race experience. We will have more news to share for 2023 and are incredibly excited to build upon this year's race for years to come."