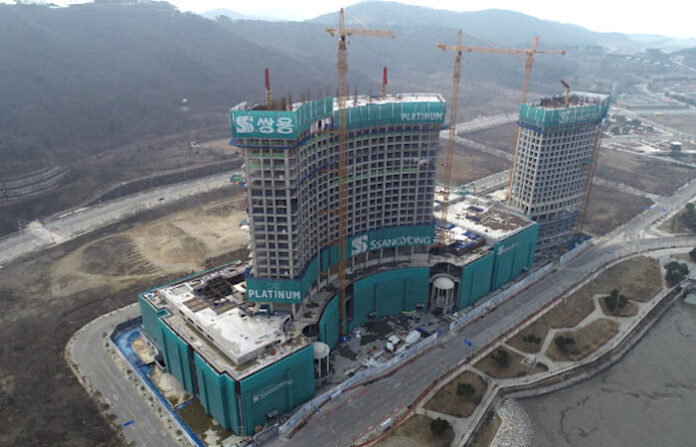 The South Korean IRs and casinos have received some positive news as companies try to recover from setbacks that were mainly the function of the Covid pandemic.
Perhaps the biggest of these headlines is that the unfinished IR project in Midan City, Incheon, appears to be back on the construction path in spite of the fact that the former "Caesars Korea" no longer has Caesars Entertainment on board, nor even an established gaming firm of any description.
The South Korean Ministry of Culture, Sports and Tourism yesterday granted a twelve-month extension to the previous construction deadline (which was this month), giving the Midan City project's now full owner, Guangzhou R&F Properties, the regulatory breathing space it needs to get its ducks in a row.
The Midan City Resort Complex is expected to eventually include a casino, 750 hotel rooms, a theater, and a convention space once it is operational. Theoretically, the opening should come by March of next year.
Also expected by the Incheon authorities next year is Mohegan's Inspire Resort, which has also applied for a six-month delay in the agreed June 2022 opening date.
As far as is known, Mohegan is planning to put up the money needed to resume the construction of the facility, now about 15 percent of the way toward completion, but there also comes news of a major leadership shakeup at the firm.
Mohegan President and Chief Executive Officer Mario Kontomerkos is stepping down at the end of this month, for reasons which were not revealed in the associated press release, to be replaced by Chief Operating Officer Ray Pineault, who will act as Interim CEO. Mohegan made clear that it will now "search for a new corporate leader."
It is unclear what effect, if any, this will have on the stalled Inspire project in Incheon.
Also, the Ministry of Culture, Sports and Tourism has yet to give its verdict on Mohegan's application to delay the opening date to the end of 2022.
Over in Seoul, there has been some tentative good news for Grand Korea Leisure as well. At the beginning of this week, the state-run firm was finally able to reopen its two foreigner-only casinos in the capital city, having been shuttered since November 24. Celebrations are muted, however, by the fact that Covid is not yet fully contained and, for now, they will be strictly limited to hosting only 20 percent of the number of patrons that they are designed for.
In anticipation of better times, however, GKL announced yesterday that it has signed an industry-academic cooperation agreement with three universities and 32 high schools to develop a tourism-related curriculum and to nurture young talents.
GKL President Yoo Tae-yeol commented, "The entire tourism industry is in a more difficult situation than ever due to Covid-19, but through this agreement, we hope that students will grow into future tourism talents and help K-Tourism take a leap forward."