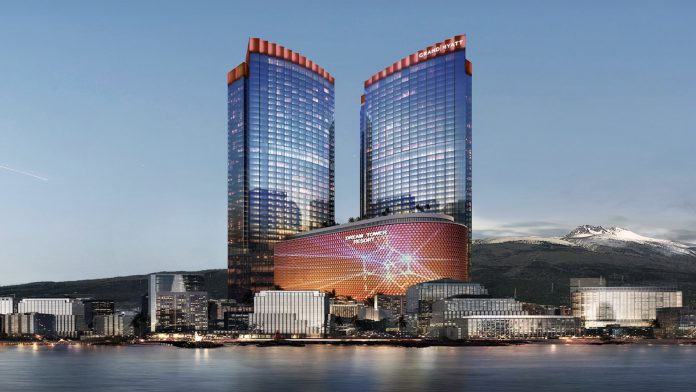 Lotte Tour Development's Jeju Dream Tower, posted a 28.4 percent increase in casino sales in 1Q22, though higher volumes in the mass segment were offset by lower hold. 
The company said that total casino sales in the foreigner-only casino in the month came in at KRW18.5 billion ($14.5 million), up from KRW14.4 million in the prior quarter.
Sales in the VIP segment jumped 48 percent to KRW14.4 million, while mass sales declined from KRW4.7 billion to KRW4.1 billion in the three months to end March.
The company said its total mass table drop surged to KRW48.4 billion from KRW27.4 billion the prior quarter, but the hold rate dropped back to 8.6 percent from 17.1 percent in 4Q21.
Lotte Dream Tower opened in June last year and is one of eight casinos on South Korea's Jeju Island. Although tourist visitation was severely limited due to the pandemic, the company said it expected support from foreigners living in Korea. 
The floor area of the new casino is 5367 square meters, just shy of the Jeju Shinhwa World Landing Casino's 5581 square meters, and sharply up from its predecessor facility, the LT Casino in the Seogwipo Jungmun Complex, which had a business area of ​​only 1175 square meters.
The Jeju Dream Tower Casino is equipped with a total of 409 game facilities, including 141 game tables, 190 slot machines, and 71 electronic table games.
The eight casinos on Jeju Island have been hard hit by the pandemic, though the larger properties, such as the Dream Tower, have benefited from a surge in domestic tourism which has helped their non-gaming revenues.
South Korea said it will reinstate visa-free tourism to Jeju and Yangyang starting in June, allowing foreign travelers to stay in the country legally for 30 days without a visa.
The visa-free program was first introduced in Jeju in April 2002 with the aim of attracting foreign tourists but was suspended in February 2020 due to the outbreak of Covid-19 across the globe.