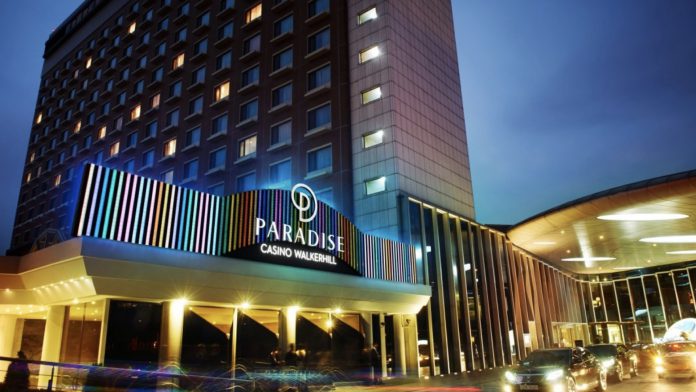 South Korea's Paradise Co. posted an 11.8 percent gain in March casino sales from the prior month, though the figure was 15.8 percent lower than last year and lagged far behind Grand Korea Leisure's performance.
Paradise, which operates four foreigner-only casinos, said it had sales of KRW19.02 billion ($15.6 million) in March. Revenue from table games was up 10.4 percent from February at KRW16.90 billion, while sales from electronic gaming machines jumped 24.8 percent to KRW2.11 billion.
Compared with the prior year, table sales were down 17.7 percent and machine sales were up 2.8 percent.
The group's casino division accounts for 60.2 percent of group sales and consists of the Paradise Walker-hill, the Jeju Grand, the Busan casino and Incheon Paradise City, which is a joint venture with Sega Sammy.
For 1Q22, the group reported accumulated revenue of KRW54.16 billion, which was down 20.4 percent from the prior year. Table games were 22.45 percent lower, while machine sales were off 2.4 percent.
Earlier this week, Grand Korea Leisure, which also operates foreigner-only casinos, reported a 334 percent spike in March casino sales from the prior month, led primarily by gains in table games.
The performance was the best since the beginning of the pandemic.
GKL said sales in the month were KRW29.72 billion ($24.4 million), compared with just KRW6.84 billion the month before. The hold ratio was also significantly higher at 23.2 percent, up from 8.3 percent in February.
The March figures take the company's sales for the quarter as a whole to KRW46.29 billion from KRW23.5 billion in the fourth quarter of last year. On a year-on-year basis, total sales were up 617 percent from the same quarter of 2021.
Grand Korea Leisure operates three foreigner-only casinos – two in Seoul and one in Busan.
Neither company provides explanatory commentary with its monthly sales data.
Although the performance at both casinos improved in March, they are starting from an exceptionally low base and are expected to be amongst the slowest to recovery in Asia. The foreigner-only casinos are reliant on the resumption of tourism flows and it will also be missing its key Chinese market for the foreseeable future.