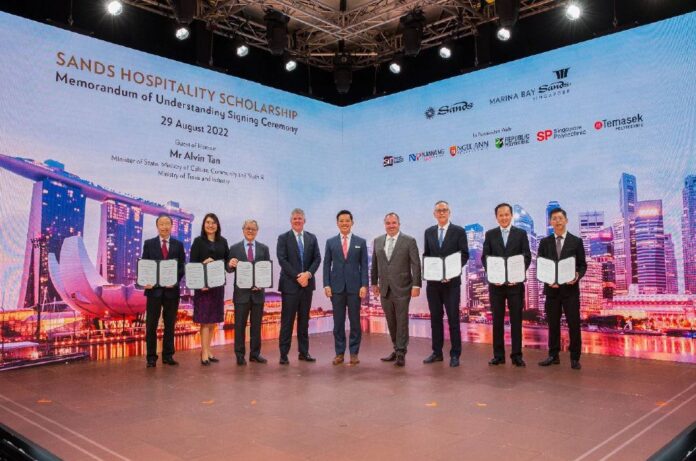 Marina Bay Sands and parent Las Vegas Sands have unveiled a scholarship program that will build a pipeline of new talent for Singapore.
The Scholarship Programme contributions to six institutes of Higher Learning to nurture the next generation of hospitality talent in Singapore and address industry personnel challenges.
The US$1 million in contributions under the Sands Hospitality Scholarship program will benefit more than 100 Singaporean students pursuing hospitality or tourism-related courses of study at six Institutes of Higher Learning (IHLs) – Nanyang
Polytechnic, Ngee Ann Polytechnic, Republic Polytechnic, Singapore Polytechnic, Temasek Polytechnic, and the Singapore Institute of Technology – for at least three years beginning in Recipients may use the scholarship to support their educational expenses, from tuition fees, course materials, to overseas immersion programs and other activities.
Las Vegas Sands and Marina Bay Sands inked a Memorandum of Understanding with the six IHLs at a signing ceremony witnessed by Minister of State for the Ministry of Trade & Industry Alvin Tan.
Ron Reese, SVP of Global Communications and Corporate Affairs, LVS, said: "The hospitality industry's greatest asset lies in its people, and developing hospitality talent is especially important as the sector undergoes rapid transformation. Singapore's resilient tourism industry is expected to grow robustly with international travel resuming. By investing in education to help youth establish careers in hospitality, we are supporting the future of our industry and Singapore's continued leadership as a top global travel destination."
Paul Town, Marina Bay Sands, Chief Operating Officer, said: "As one of Singapore's largest hospitality players, Marina Bay Sands has had the privilege of creating thousands of jobs and developing careers for our Team Members in diverse roles. We are always on the lookout for the brightest talents to join us in our next stage of growth, and the scholarship is intended to encourage more to chart their paths in this burgeoning industry."
The integrated resort currently employs close to 10,000 staff, with over 50 percent having worked more than five years at the organization.
Nearly a quarter of the workforce are considered pioneers of the company, having served 10 years or more at the integrated resort.
The company notes that hiring and developing local talent is a key focus, with Singaporeans or Permanent Residents filling more than two-thirds of the employee population.
The US$1 million in scholarships is part of Sands' efforts to support hospitality industry workforce development, a core priority in its global community engagement program, Sands Cares.